In November 2004, Cabinet will release its second book, Letters from Mayhem. Illustrated by the Swedish artist Roger Andersson, this 64-page artist book consists of 26 watercolors, each depicting one letter of the alphabet, accompanied by text by poet Albert Mobilio. Printed on thick board in the format of a children's ABC primer, each letter is embedded in a fairytale setting in which wispy long-haired teenagers lie around stoned, sniffing glue, listening to heavy metal, and so on. This garden of vices overgrown with weeds and entangled vines forms a strange foil for imagery drawn from drug culture, anarchy, heavy metal, and children's cartoons, rendering every scene both innocent and corrupt. Full of messages hidden within plants, ponds, and clouds, Andersson's Delft-blue drawings evoke a soft nostalgia for childhood tempered by images of soft-edged romantic decadence.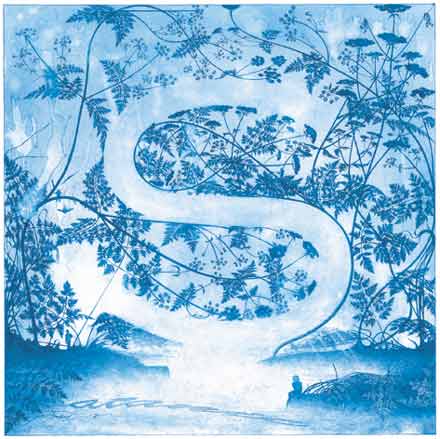 ABOUT THE ARTIST
Roger Andersson was born in Linköping, Sweden, in 1966. Recent solo shows of his work have been mounted at Sara Meltzer Gallery in New York and Magnus Karlsson Gallery in Stockholm, and he has been included in group shows at the Yerba Buena Center for the Arts in San Francisco, the Malmö Konsthall in Sweden, and the Museum of Modern Art in Stockholm. Andersson lives in Stockholm.
ABOUT THE WRITER
Albert Mobilio is the recipient of a Whiting Writers' Award and the 1998 National Book Critics Circle award for reviewing. His work has appeared in Harper's, the Village Voice, Grand Street, Bomb, Tin House, Cabinet, and the New York Times Book Review. His books of poetry include "Bendable Siege," "The Geographics," and "Me with Animal Towering." A book of fiction, "The Handbook of Phrenology," was recently published as a limited edition artist's book (with etchings by Hilary Lorenz). He teaches writing at New York University and is the fiction editor at Bookforum.
Cabinet is a non-profit organization supported by the Lambent Foundation, the Orphiflamme Foundation, the National Endowment for the Arts, the New York City Department of Cultural Affairs, the New York State Council on the Arts, the Katchadourian Family Foundation, and many generous individuals. All our events are free, the entire content of our many sold-out issues are on our site for free, and we offer our magazine and books at prices that are considerably below cost. Please consider supporting our work by making a tax-deductible donation by visiting
here
.