Cabinet will be contributing to Proteus Gowanus, a new Brooklyn-based exhibition venue and reading room near the Gowanus Canal. Cabinet has been assigned an enormous early twentieth-century safe (weighing 4 tons!) for the display of Cabinet's publications and unlimited editions. Additionally, with each new issue, Cabinet will organize a micro-exhibition related to something featured in the issue. Cabinet's contributions to Proteus Gowanus will be overseen by Chaya Thanhauser.

The first exhibition is of Louise Harpman and Scott Specht's coffee lid collection featured in issue 19.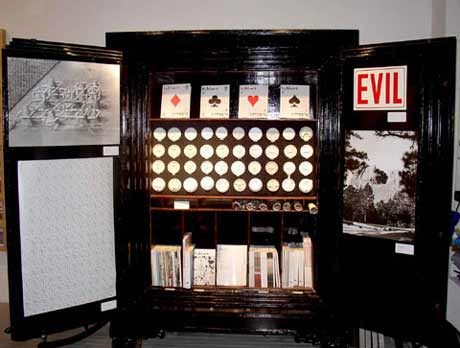 Proteus Gowanus
is located at 543 Union St, Brooklyn (enter on Nevins side of building). Hours are Thursday and Friday 4-7, and Saturday and Sunday, 12-6.
Cabinet is a non-profit organization supported by the Lambent Foundation, the Orphiflamme Foundation, the National Endowment for the Arts, the New York City Department of Cultural Affairs, the New York State Council on the Arts, the Katchadourian Family Foundation, and many generous individuals. All our events are free, the entire content of our many sold-out issues are on our site for free, and we offer our magazine and books at prices that are considerably below cost. Please consider supporting our work by making a tax-deductible donation by visiting
here
.