Cabinet is participating in Christoph Keller's project "Kiosk," an itinerant library showcasing the wide spectrum of independent publishing in the world today. Below is the schedule of exhibits so far (last updated on Aug 14, 2007)

KIOSK (I) — IN AND OUT OF PRINT
Galerie Karin Guenther, Hamburg
12 June – 28 June 2001

KIOSK (II) – MODES OF MULTIPLICATION
SITE, Düsseldorf
10 October – 21 November 2001

KIOSK (III) – MODES OF MULTIPLICATION
Raum aktueller Kunst Martin Janda, Vienna
29 January – 16 February 2002
Installation: Werner Feyersinger

KIOSK (IV) – PUB-PAP-PO
Projektraum Rosenthaler 11, Berlin
27 February – 22 March 2002

KIOSK (V) – MODÈLES DE MULTIPLICATION
Centre d'Edition Contemporaine, Geneva
11 April – 15 May 2002

KIOSK (VI) – MANIFESTA 4
Frankfurter Kunstverein, Frankfurt/Main
24 May – 25 August 2002
Installation: Stefan Wieland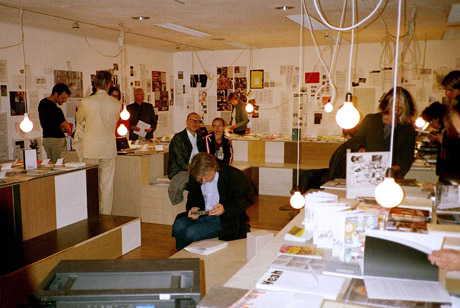 KIOSK (VII) – MODES OF MULTIPLICATION
Marres, Maastricht
6 September – 13 October 2002
Installation: Manuel Räder
KIOSK (VIII) – SALONS ET BOUDOIRS
Cneai, Paris
15 October 2002 – 18 January 2003
Installation: Mathieu Mercier
KIOSK (IX) – MODES OF MULTIPLICATION
Hochschule für Bildende Künste, Hamburg
21 May – 28 May 2003
KIOSK (X) – 25TH BIENNIAL OF GRAPHIC ARTS
International Centre of Graphic Arts & Moderna Galerija, Ljubljana
10 June – 26 September 2003
Installation: Allan Ruppersberg (furniture) & John Armleder (wallpaper)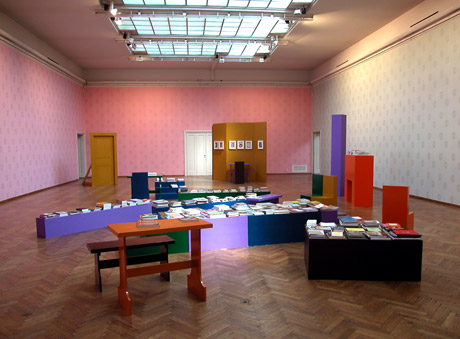 KIOSK (XI) – MODES OF MULTIPLICATION
Liquidación Total, Madrid
11 October – 21 October 2003
KIOSK (XII) – PRINTING MATTERS!
Witte de With, Rotterdam
2 April – 17 April 2005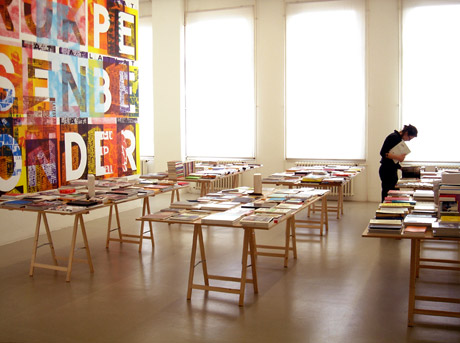 KIOSK (XIII) – MODES OF MULTIPLICATION
Kunst-Werke Berlin eV - Institute for Contemporary Art, Berlin
4 June – 12 August 2005
KIOSK (XIV) – 9TH ISTANBUL BIENNIAL
Antrepo, Istanbul
16 September – 30 October 2005
KIOSK (XV) – MODES OF MULTIPLICATION
Institute of Contemporary Arts, London
17 December 2005 – 15 January 2006
Installation: Liam Gillick & Edgar Schmitz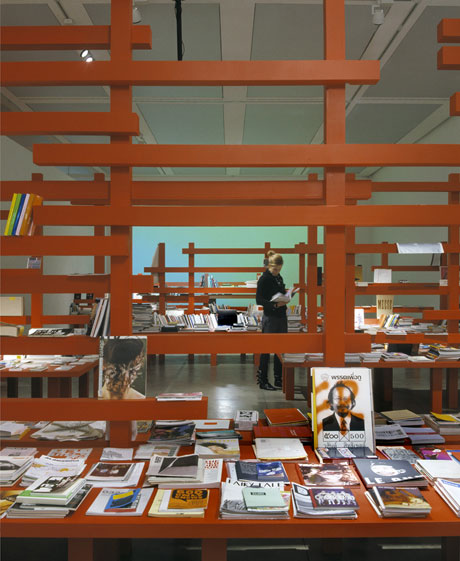 KIOSK (XVI) – MODES OF MULTIPLICATION
Artspace, Auckland, NZ
25 March – 29 April 2006
Installation: Ri Williams
KIOSK (XVII) – MODES OF MULTIPLICATION
Physics Room, Christchurch
11 May – 3 June 2006
KIOSK (XVIII) – MODES OF MULTIPLICATION
Charles H. Scott Gallery, Emily Carr Institute, Vancouver
September 13 – October 29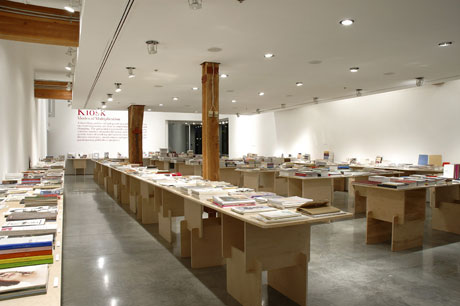 KIOSK (XIX) – MODES OF MULTIPLICATION
Artists' Space, New York, NY
30 March – 12 May 2007
KIOSK (XX) – MODES OF MULTIPLICATION
Midway Contemporary, Minneapolis
8 September – 30 November 2007
KIOSK (XXI) – MODÈLES DE MULTIPLICATION
Galerie Art & Essai & École des beaux-arts, Rennes, France
16 January – 25 February 2008
BEYOND KIOSK: A SELECTION FROM THE KIOSK ARCHIVE
Institute of Contemporary Art, University of Pennsylvania, Philadelphia
18 January - 30 March 2008
Forthcoming:
Spring/Summer 2009
KIOSK (XXII) – MODES OF MULTIPLICATION
Kunstbibliothek, Stiftung Preußischer Kunstbesitz, Berlin
Cabinet is published by Immaterial Incorporated, a non-profit 501(c)(3) organization. Cabinet receives generous support from the Lambent Foundation, the Orphiflamme Foundation, the Andy Warhol Foundation for the Visual Arts, the Opaline Fund, the New York City Department of Cultural Affairs, the Danielson Foundation, the Katchadourian Family Foundation, The Edward C. Wilson and Hesu Coue Wilson Family Fund, and many individuals. All our events are free, the entire content of our many sold-out issues are on our site for free, and we offer our magazine and books at prices that are considerably below cost. Please consider supporting our work by making a tax-deductible donation by visiting
here
. Thank you for your consideration.