Venue: Storefront for Art and Architecture, 97 Kenmare Street. Ring Dome in Petrosino Park, adjacent to The Storefront
Time: Wednesday, October 3rd, 2007 @ 7:00 PM
FREE. Refreshments will be served.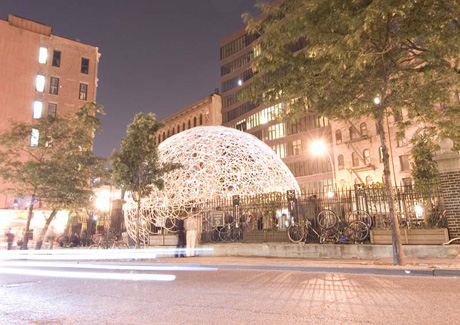 Frederic Tuten
will host a literary evening as part of Z-A, a 26-day festival celebrating the 25th anniversary of the
Storefront for Art and Architecture.
Sponsored by a consortium of art and literary magazines in support of the Storefront, including
Cabinet
,
BOMB
,
Open City
,
Smyles & Fish
,
Tin House
,
Mr. Beller's Neighborhood
,
Guernica
, KGB Barlit, and others, the evening will feature a reading by four writers who have written about or who themselves make art, and will be held in a pavilion (a giant dome built out of 1,000 Hula-Hoops) constructed especially for the Storefront festival.
Tuten, the author of
van Gogh's Bad Café
and
will be joined by Shelley Jackson, the author of Half-Life and The Melancholy of Anatomy; Wayne Koestenbaum, whose most recent book, Hotel Theory is a hybrid of fiction and nonfiction; and Iris Smyles, a writer and cartoonist and editor of Smyles & Fish.

Cabinet is a non-profit organization supported by the Lambent Foundation, the Orphiflamme Foundation, the New York Council on the Arts, the NYC Department of Cultural Affairs, the National Endowment for the Arts, the Andy Warhol Foundation for the Visual Arts, the Katchadourian Family Foundation, Goldman Sachs Gives, the Danielson Foundation, and many generous individuals. Please consider making a tax-deductible donation by visiting

here

.