Presentation and Discussion /
"The City as Phantasm," with Carla Nappi, Dominic Pettman, and Merritt Symes
Date: Wednesday, 29 April 2015, 7–9 pm
Location: Cabinet, 300 Nevins Street, Brooklyn (map and directions here)
FREE. No RSVP necessary
Listen to an audio recording of this program, or download
here
.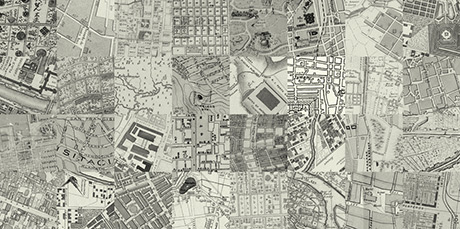 Please join us for a discussion with Carla Nappi and Dominic Pettman of their projects in polis-based poetics, secret cartographic affinities, intertwining incoherent geographies, and imagined historical serendipities: Pettman's In Divisible Cities (Punctum Press) and Nappi's Illegible Cities (University of Pennsylvania Press, forthcoming).
Pettman's In Divisible Cities takes Italo Calvino's classic reimagining of Venice, viewed in the mind's eye from many different metaphysical angles, and projects it onto the world at large. Where the Italian saw his favorite city as an impossible metropolis of many moods, shades, and ways of being, this unauthorized sequel unpacks the Escheresque streets in unexpected directions. In Divisible Cities is thus an exercise in cartographic origami: the reflective and poetic result of the narrator's desire to map hidden cities, secret cities, imaginary cities, impossible cities, and overlapping cities, existing beneath the familiar Atlas of everyday perception. Stitching these different places and spaces together is a "double helix" or "Siamese seduction" between the traveler and his romantic shadow, revealing—step by step—a clandestine itinerary of hidden affinities nestled within the habitual rhythm of things.
Nappi's Illegible Cities takes Calvino as inspiration for a history of translators and the textual worlds they created in early modern China. The book imagines a gathering of translators who share no common language among them, and tell their stories to one another by acting out pages from the languaged worlds they created: a glossary, a grammar, a primer, a conversation manual, a collection of poems. Each chapter follows its translator in exploring the ways that translation creates language, and that language in turn brings cities and peoples into being by rendering their scriptural or oral voices on the page.
The evening will be punctuated by short films by Merritt Symes.
This event is co-presented with Liberal Studies, The New School for Social Research.
---
About the Participants
Carla Nappi is Canada Research Chair and associate professor in the Department of History at the University of British Columbia. She has published widely on topics such as medicine, magic, premodern China, monkeys, and inkpots.
Dominic Pettman is chair of Liberal Studies at the New School for Social Research, and professor of Culture & Media at Eugene Lang College. He has published widely on topics such as love, technology, animals, and objects.
Merritt Symes is a practicing, but unlicensed, semiotician. She makes experimental films in New York City.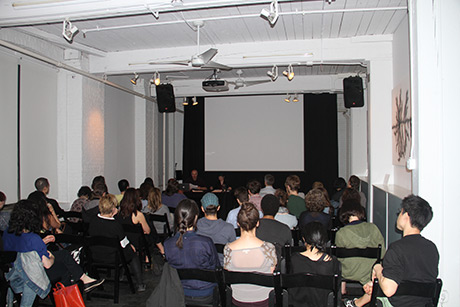 Beer for this event has been lovingly provided by Brooklyn Brewery. Refreshments courtesy of Sprizz-O.