Discussion and Book Launch / "Red Love: A Reader on Alexandra Kollontai," with Bini Adamczak, Maria Lind, Michele Masucci, Aaron Schuster, Sophia Tabatadze, Oxana Timofeeva, Mohammad Salemy, and Joanna Warsza
PLEASE NOTE THAT THIS EVENT HAS BEEN POSTPONED.

Date: POSTPONED
Location: Cabinet, Ebersstrasse 3, Berlin (map and directions here)
FREE. No RSVP necessary.
Co-presented with CuratorLab, Konstfack University, Stockholm; Tensta konsthall; and Sternberg Press
Facebook Event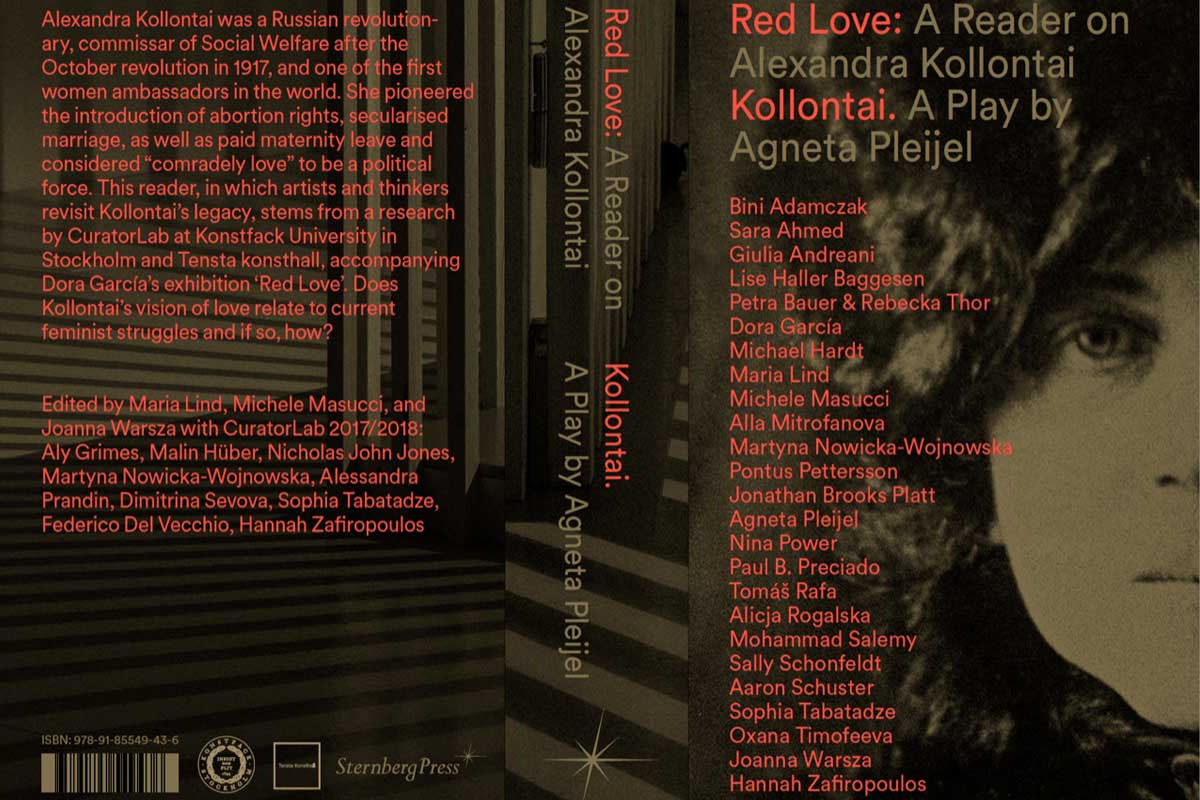 On the occasion of the release of Red Love: A Reader on Alexandra Kollontai, please join us for an evening dedicated to exploring the legacy of the Soviet writer and revolutionary. Appointed the People's Commissar of Social Welfare after the October Revolution, Kollontai worked to introduce a number introduction of crucial reforms for women's liberation, including abortion rights, secularized marriage, and paid maternity leave. For her, "comradely love" was a fully political force.
The evening's discussion featuring several of the contributors to the anthology—Bini Adamczak, Michele Masucci, Aaron Schuster, Sophia Tabatadze, Oxana Timofeeva, and Mohammad Salemy—will be moderated by two of the anthology's editors, Maria Lind and Joanna Warsza. In addition to presenting this historical figure, we will ask how to read Kollontai's vision of love today and how to relate it to current feminist struggles?
The anthology stems from research conducted by CuratorLab at Konstfack University in Stockholm and by Tensta konsthall in the context of an exhibition by Dora García in 2018.
Drinks and red borscht will be served.
---
About the Book
Red Love: A Reader on Alexandra Kollontai

Published by Sternberg Press, Konstfack Collections, and Tensta konsthall, 2020.

Edited by Maria Lind, Michele Masucci, and Joanna Warsza, with CuratorLab 2017–2018 participants Aly Grimes, Malin Hüber, Nicholas John Jones, Martyna Nowicka-Wojnowska, Alessandra Prandin, Dimitrina Sevova, Sophia Tabatadze, Federico Del Vecchio, and Hannah Zafiropoulos.

Contributions by Bini Adamczak, Sara Ahmed, Giulia Andreani, Lise Haller Baggesen, Petra Bauer & Rebecka Thor, Dora García, Michael Hardt, Pontus Pettersson, Jonathan Brooks Platt, Agneta Pleijel, Nina Power, Paul B. Preciado, Alla Mitrofanova, Martyna Nowicka-Wojnowska, Michele Masucci, Maria Lind, Aaron Schuster, Oxana Timofeeva, Mohammad Salemy, Sally Schonfeldt, Sophia Tabatadze, Tomas Rafa, Alicja Rogalska, Joanna Warsza, and Hannah Zafiropoulos.

Design by Jiri Novak.