Film Screening and Discussion /
"Life/Death and Afterlife," with Kasper Akhøj, Deirdre Boyle, and Kim Miller
Date: Tuesday, 29 March 2016, 7–9 pm
Location: Anthology Film Archives, 32 Second Ave, New York (map and directions here)
Tickets: On sale at the venue 30 minutes prior to the event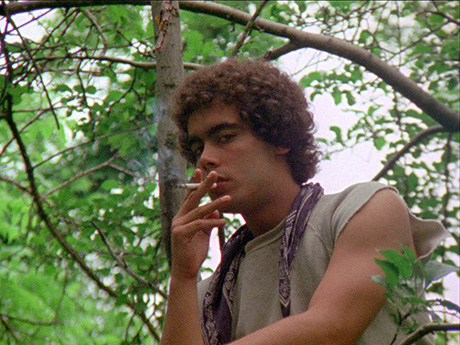 Please join us for "Life/Death and Afterlife," an evening of films organized by the Flaherty and co-presented with Cabinet at Anthology Film Archives. The program, the last of six screenings in the annual Flaherty NYC series, comprises three films that explore the notion of ghosts as border-crossers and the extent to which their transmissions break down the distinctions between, and the inviolability of, physical and metaphysical bodies. The program includes:
— Madame Mae Nang Nak (2014), directed by Kim Miller
— The Cruz Brothers and Miss Malloy (1980), directed by Kathleen Collins
— A Família do Capitão Gervásio (2014), directed by Tamar Guimarães & Kasper Akhøj

Kim Miller and Kasper Akhøj will be present for a post-screening discussion moderated by Deirdre Boyle, media critic, historian, and professor in the School of Media Studies at the New School.
For more information on the program, visit flahertyseminar.org.
---
About the Participants
Kasper Akhøj's collaborative work with Tamar Guimarães has been shown in the Belgian Pavilion at the 56th Venice Biennial (2015); the 31st São Paulo Biennial (2014); the 55th Venice Biennial, International Exhibition (2013); the 11th Sharjah Biennial (2013); and the Jeu de Paume, Paris (2012), among other venues. Akhøj's solo works have been exhibited at Wiels Center for Contemporary Art, Brussels (2010); Künstlerhaus Stuttgart (2010); Overgaden Institute for Contemporary Art, Copenhagen (2010); Goethe-Institut, New York (2010); Museu de Arte do Rio, Rio de Janeiro (2014); Tel Aviv Museum of Art (2013); and 3rd Guangzhou Triennial (2008), among others.
Deirdre Boyle is associate professor in the School of Media Studies at the New School. She has contributed essays to journals such as Afterimage, Cineaste, CineAction, Film Quarterly, Frameworks, Millennium Film Journal, Short Film Studies, Wide Angle, and WuXia. Her books include Subject to Change: Guerrilla Television Revisited (Oxford University Press, 1997). She is currently writing a book about the films of genocide survivor Rithy Panh, Cambodia's leading filmmaker and media activist.
Kim Miller received a BFA from Cooper Union in New York and an MFA from Vermont College of Art in Montpelier. She has performed live and screened her videos at the Suburban, Oak Park, Illinois; Green Gallery, Milwaukee; Museum of Modern Art, New York; MASS MoCA, North Adams, Massachusetts; and Art in General, New York. She has taught at Chulalongkorn University, Bangkok; the University of Wisconsin–Milwaukee; and the Milwaukee Institute of Art and Design, where she currently serves as the Chair of Fine Art and New Studio Practice.