Discussion /
"Terrible Beauty," with Laylah Ali, Emmet Gowin, Peter Rostovsky, and Lisa Sanditz
Date: Thursday, 10 September 2015, 7–9 pm
Location: The Morgan Library, 225 Madison Avenue, New York
Tickets: $15 ($10 for Cabinet subscribers and Morgan members; free for students with ID).
Co-organized by Cabinet and the Morgan Library in conjunction with "Hidden Likeness: Photographer Emmet Gowin at the Morgan," on view at the Morgan through September 20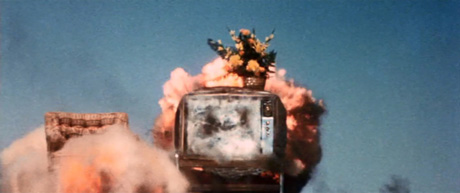 Please join us for an evening with visual artists Laylah Ali, Emmet Gowin, Peter Rostovsky, and Lisa Sanditz to explore the relationship between beauty and catastrophe, whether historic or prophesied, global or personal. An open discussion will follow the artists' presentations on the topic.
"Hidden Likeness" will be open at 5:30 pm for program attendees.
---
About the Participants
Laylah Ali is a New York–based artist best known for her paintings of meticulously drawn, colorful, and disturbing allegorical figures, including her long-running "Greenheads" series and her newest work, the "Acephalous" series, which was exhibited in the spring of 2015 at Paul Kasmin Gallery. Ali's works are included in the permanent collections of numerous public institutions, including the Albright-Knox Art Gallery, Buffalo; the Museum of Contemporary Art, Chicago; the Museum of Modern Art, New York; and the Walker Art Center, Minneapolis, among many others.
Emmet Gowin is a photographer who since 1964 has been making portraits of family members, especially his wife Edith. Beginning in the 1980s, Gowin's interests expanded into landscape and aerial photography, with a focus on the environmental effects of modern agriculture, industry, and military weapons testing. Since the late 1990s, he has been photographing nocturnal moths in the American tropics. Traveling retrospectives of his work have been organized by the Philadelphia Museum of Art (1990), the Yale University Art Gallery, New Haven (2002), and the Fundación Mapfre, Madrid (2013). Gowin lives in Newtown, Pennsylvania.
Peter Rostovsky is a Russian-born artist and writer who works in a variety of disciplines, including painting, sculpture, public art, installation, and digital art. His work has been shown at such venues as the Walker Art Center, Minneapolis (2012); the MCA Santa Barbara (2010); the Zabludowicz Collection, London (2010); the Santa Monica Museum of Art (2006); PS1/MoMA, New York (2005); the Blanton Museum of Art, Austin (2005 and 2013); Artpace, San Antonio (2004); S.M.A.K., Ghent (2001). In addition to his studio practice, his writings under the name David Geers have appeared in October, Fillip, the Brooklyn Rail, the Third Rail, Bomb, and frieze. Rostovsky lives in Brooklyn and teaches at New York University and Parsons School of Design at the New School.
Lisa Sanditz is an artist whose work investigates the collision of the natural and built environment in the American landscape through historically anchored and formally complex paintings, drawings, and, most recently, sculptures. She is represented by CRG Gallery, New York, and Acme Gallery, Los Angeles. Reviews of her solo exhibitions have appeared in the New York Times, the New Yorker, Artforum, New York, Modern Painters, frieze, and the Los Angeles Times. A 2008 recipient of a John Simon Guggenheim Fellowship, Sanditz is based in Tivoli, New York and is currently a visiting assistant professor at Bard College.