Presentation /
"A Counterfeit Utopia," with Robert Antoni
Date: Friday, 4 April 2014, 7–9 pm
Location: Cabinet, 300 Nevins Street, Brooklyn (map and directions here)
FREE. No RSVP necessary
Listen to an audio recording of this program, or download here.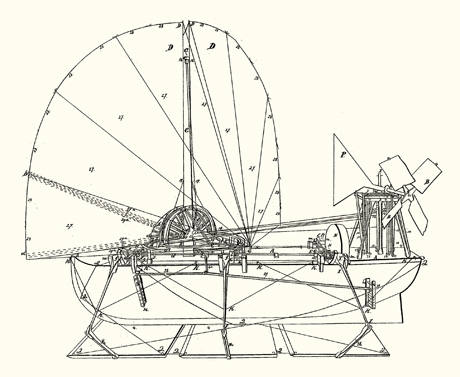 Robert Antoni's historical novel As Flies to Whatless Boys (Akashic Books, 2013) documents his family's journey from London to Trinidad in 1845 as part of the Tropical Emigration Society, a utopian experiment led by the German inventor John Adolphus Etzler. By turns engineer, visionary, and boldfaced charlatan, Etzler claimed to have invented machines, powered by the immense forces of Mother Nature, that would transform the tropics into an English garden virtually overnight. A historical account by Antoni of Etzler's extraordinary endeavor and the fate of his Tropical Emigration Society is available in Cabinet no. 51. Antoni's multimedia presentation at the Cabinet event space will weave a variety of real, manipulated, and fabricated documents: the patents and mechanical drawings for Etzler's machines; and personal notebooks, maps, letters, and films.
---
About the Author
Robert Antoni is the author of five books, including the landmark novel Divina Trace, for which he received a Commonwealth Writers' Prize and an NEA grant. He was a 2010 Guggenheim Fellow and recently received the NALIS Lifetime Literary Award from the Trinidad & Tobago National Library. He lives in Manhattan and teaches in the graduate writing program at the New School.
Beer for this event has been lovingly provided by Brooklyn Brewery. Additionally, Antoni will oversee the production of a special batch of rum punch, which will be served with Trinidadian "doubles."