Screening and Discussion /
"Moments of Silence," with Mats Bigert and George Prochnik
Date: Thursday, 23 April 2015, 7–9 pm
Location: Cabinet, 300 Nevins Street, Brooklyn (map and directions here)
FREE. No RSVP necessary
Listen to an audio recording of this program, or download
here
.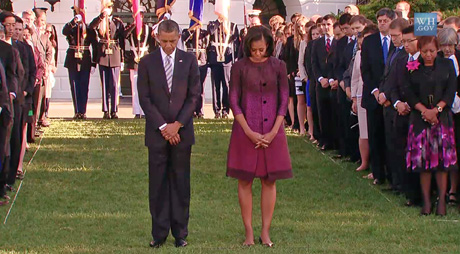 Please join us for an evening with artist Mats Bigert and writer George Prochnik dedicated to examining the ritual of a moment of silence to commemorate a shared catastrophe. A screening of Bigert and Bergström's new film Moments of Silence will be followed by discussion between Bigert and Prochnik, author of In Pursuit of Silence.
The first widely observed national moment of silence took place in England on 11 November 1919 to commemorate Armistice Day. For two minutes, transportation halted; factories broke off production; telephone exchanges ceased to connect calls. The power of the ritual was immediately recognized and it now takes place across the world in various contexts.
A meditative memento on the importance of collective memory, Moments of Silence compiles a series of these moments into a film to examine one of the few remaining activities that shape a collective human experience.
The evening might itself be punctuated by silent pauses—awkward, pregnant, provocative, frightening, claustrophobic, perplexing, and humorous—as well as slightly louder interruptions.
---
About the Participants
Mats Bigert is one half of Bigert & Bergström, an artist and filmmaker duo based in Stockholm. Their films and artworks have been shown in institutions worldwide—including Moderna Museet, Stockholm; Hamburger Bahnhof, Berlin; ICA, London; and Mori Art Museum, Tokyo—and included in the Venice Biennale, the Moscow Biennial, and the Singapore Biennial, among other exhibitions. They are currently working on a trilogy of short films that examine the public statement as a performative act. Moments of Silence (2014) is the first film in the series, and will be followed by Important Message to the Public (2015) and Explosion of Speech (2016). Bigert is also an editor at-large at Cabinet.
George Prochnik has written for the New York Times, the New Yorker, Cabinet, Bookforum, and the LA Review of Books, among other publications. His most recent book The Impossible Exile: Stefan Zweig at the End of the World (Other Press, 2014) received the National Jewish Book Award for Biography/Memoir in 2014. He is also the author of In Pursuit of Silence: Listening for Meaning in a World of Noise (Doubleday, 2010) and Putnam Camp: Sigmund Freud, James Jackson Putnam, and the Purpose of American Psychology (Other Press, 2006).
This event is in association with the conference "What Now? 2015: The Politics of Listening," organized by Art in General in collaboration with the Vera List Center for Art and Politics at the New School.
Beer for this event has been lovingly provided by Brooklyn Brewery.