Presentation and Discussion /
"Our History || Notre histoire," with Michael Blum and Glenn D. Lowry
Date: Wednesday, 3 June 2015, 7–9 pm
Location: Cabinet, 300 Nevins Street, Brooklyn (map and directions here)
FREE. No RSVP necessary
Listen to an audio recording of this program, or download
here
.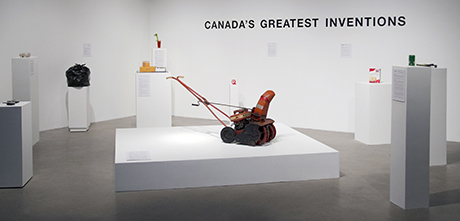 Please join us for an evening of Canadian and Quebecois stories as Michael Blum presents his exhibition and book Our History || Notre histoire, a project on Canadian and Quebecois politics realized at Galerie de l'UQAM in Montreal last fall. After his presentation, Blum will be joined by Glenn Lowry for a discussion.
Our History || Notre histoire consisted of a pair of mock national museums with a single (emergency) exit, offering a facetious understanding of both conflicted narratives while addressing the longstanding issue of "two solitudes," a phrase used in Canada to describe the Anglophone and Francophone communities' unwillingness to engage in dialogue with one other. The exhibition grew out of the specific political context of Quebec between 2012 and 2014, a period that saw, in rapid succession, the events surrounding the Maple Spring, the Parti Québécois's Charter of Quebec Values, and the return and quick disappearance of the sovereignty debate with the election of a neoliberal government. While all this was taking place, television viewers were being treated to live coverage of the sessions of the Commission of Inquiry on the Awarding and Management of Public Contracts in the Construction Industry.
Before visitors chose which museum to enter first, they encountered a neutral space where a publication was available for reading. Framed by quotes from authors Michel Tremblay and Mordecai Richler—whose writings epitomize their respective Francophone and Anglophone cultures, albeit in ways that, ironically, prove to be self-defeating—the publication gathered answers by over eighty respondents, in English and French, to a non-scientific survey that Blum circulated at the outset of the project and which included questions such as:
What is Quebec for you?
How would you explain the difference between Canada and Quebec to a foreigner?
If a museum had to preserve the differences between Canada and Quebec, how would you envision it?
How do you see the relations between Canada and Quebec within two or three generations?
What common language other than English or French could we use?
A Q&A will follow Blum's conversation with Lowry. Copies of Our History || Notre histoire will be available for purchase.
---
About the Participants
Michael Blum is an artist who has been based in Montreal since 2010. Past projects include A Tribute to Safiye Behar, a museum dedicated to the secret lover of Mustafa Kemal Atatürk (9th Istanbul Biennial, 2005); Exodus 2048, which staged a possible future in the Middle East (Van Abbemuseum, Eindhoven, 2008; New Museum, New York, 2009); and Palazzo Chupi, an investigation of Julian Schnabel's West Village palazzo and the relation between art and real estate (Optica, Montreal, 2015). He is a professor at École des arts visuels et médiatiques, UQAM, Montreal. See www.blumology.net for more information.
Glenn D. Lowry, who became the sixth director of the Museum of Modern Art in 1995, has lectured and written extensively on contemporary art, artists, and the role of museums in society, among other topics. Born in 1954 in New York City and raised in Williamstown, Massachusetts, Lowry holds a PhD in art history from Harvard University.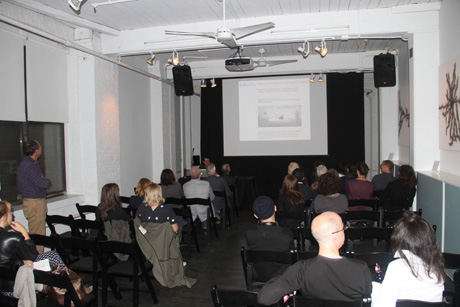 Beer for this event has been lovingly provided by Brooklyn Brewery. Refreshments courtesy of Sprizz-O.