Film Screening and Discussion / "Singular Plural," with Candice Breitz and Toby Lee
Date: Monday, 31 October 2016, 7–9 pm
Location: Anthology Film Archives, 32 Second Ave, New York (map and directions here)
Tickets: On sale at the venue 30 minutes prior to the event
Programmed by Chris Stults & Genevieve Yue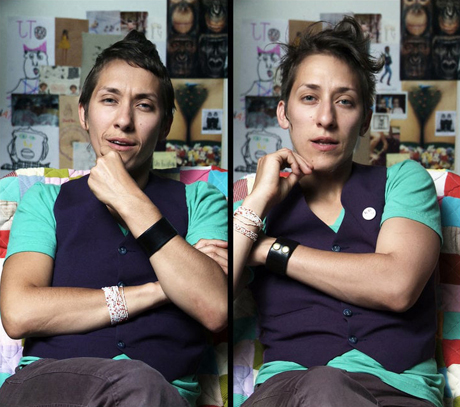 Please join us for "Singular Plural," an evening of films organized by the Flaherty and co-presented with Cabinet at Anthology Film Archives.
Unique voices multiply and individuals become communal in this program centered around Candice Breitz's captivating split-screen 2009 video Factum Tremblay. Breitz filmed extensive interviews with a set of identical twins and edited the footage together into dual monologues that accentuate and complicate the differences and similarities between them. Love, individuality, sibling rivalries, and queerness are among the many topics that the irresistibly charming Tremblay siblings address.
The program concludes with Somos +, a 1985 film directed by Kollectiv (Pablo Salas/Pedro Chaskel), which follows a political demonstration by Chilean women who rise up with a unified voice against Augusto Pinochet's military regime.
Candice Breitz will be present for a post-screening discussion with moderator Toby Lee, assistant professor of Cinema Studies at NYU's Tisch School of the Arts.
For more information on the program, visit here.
---
About the Participants
Candice Breitz is a Berlin-based artist who was born in 1972 in Johannesburg, South Africa. She has participated in many major exhibitions including the Johannesburg, São Paulo, Istanbul, Kwangju, Taipei and Venice Biennales. She has had solo exhibitions at De Appel Foundation, Amsterdam (2001), Moderna Museet, Stockholm (2004), Modern Art Oxford (2003), Castello di Rivoli, Turin (2005), Palais de Tokyo, Paris (2005), Temporäre Kunsthalle Berlin (2008), the Louisiana Museum of Modern Art, Humblebaek, Denmark (2008), the Power Plant, Toronto (2009), and Kunsthaus Bregenz (2010).
Toby Lee is an artist, anthropologist, and assistant professor of Cinema Studies at NYU's Tisch School of the Arts. She works across video, installation, performance, and drawing, and her work has been been exhibited at the Locarno Film Festival, Ann Arbor Film Festival, Anthology Film Archives, Museum of the Moving Image (NYC), and the 2014 Whitney Biennial. Her research interests include visual and media anthropology, the anthropology of cultural institutions, cultural citizenship, expanded documentary, and cultures of surveillance and documentation. She has a PhD in Anthropology and Film & Visual Studies from Harvard University, where she was a member of the Sensory Ethnography Lab. She is the recipient of fellowships from the Fulbright Foundation, the Social Science Research Council, the Film Study Center at Harvard University, and the Flaherty Film Seminar. From 2012 to 2014, she was the Director of the Collaborative Studio at UnionDocs: Center for Documentary Art.