Roundtable /
"I Am a Ball," with D. Graham Burnett, Simon Critchley, Matt Freedman, Dominic Pettman, and Carlin Wing
Date: Friday, 18 September 2015, 7–9 pm
Location: Cabinet, 300 Nevins Street, Brooklyn (map and directions here)
FREE. No RSVP necessary
Listen to an audio recording of this program, or download
here
.

Please join us for a roundtable that will re-center a number of theoretical debates on the culture and history of sports by examining the field from a perspective that is almost always overlooked—that of the ball itself. To that end, the guests at this special event—moderated by D. Graham Burnett—include a football (aka soccer ball), an American football, a cricket ball, and a tennis ball. Sharing their insights from a subject position essential to many sports but inexplicably marginal to sports discourse, our four ball-panelists will use Cabinet contributors Simon Critchley, Matt Freedman, Dominic Pettman, and Carlin Wing to give voice to their ideas and to share with us their unique points of view.
In his 1972 novel Endzone, Don DeLillo describes a kicker shaken by a moment of vertiginous insight: "I sensed knowledge in the football," he explains to a teammate on the bench after he comes off the field. "I sensed a strange power and restfulness. The football possessed awareness. The football knew what was happening. It knew. I'm sure of it." This roundtable will finally allow this form of ball-consciousness the opportunity to speak.
---
About the Participants
D. Graham Burnett is an editor at Cabinet, and teaches at Princeton University. He was part of "Schema for a School," an experiment with experiences of text and embodiment at the 31st Graphic Arts Biennial in Ljubljana, Slovenia. In the 1990s, he played lacrosse for Cambridge University.
Simon Critchley is Hans Jonas Professor at the New School for Social Research. He writes too much. His only religious commitment is to Liverpool Football Club. He believes the ball is round, that a round football is the only football, and that Liverpool are the only football club. During this roundtable, Critchley will heuristically inhabit the being of the ball involved in the notorious "goal" scored by Geoff Hurst in the 1966 World Cup final at Wembley.
Matt Freedman is an artist, writer, and former professional football living in Ridgewood, Queens. Recent performances include the "Broken Time" series with Tim Spelios at Studio 10 gallery in Bushwick and at the SculptureCenter in Long Island City. In 2010, Freedman was intercepted and returned seventy-four yards for a touchdown by Tracy Porter to seal Super Bowl XLIV and give the New Orleans Saints their only NFL championship.
Dominic Pettman is a professor of culture and media at the New School for Social Research and former professional cricket ball. His books include Human Error (University of Minnesota Press, 2011); In Divisible Cities (Punctum Books, 2013); Look at the Bunny (Zero Books, 2013); and Infinite Distraction (forthcoming). In 1981, Pettman was ordered by the Australian captain to be bowled in an underarm manner at the Melbourne Cricket Ground, thereby denying New Zealand the chance to score a match-winning six off the last ball. After the controversy that followed, Pettman was obliged to move to the US, and now lives in reclusive notoriety.
Carlin Wing is an artist, doctoral candidate in the Department of Media, Culture, and Communication at New York University, and former professional tennis ball. Iterations of her ongoing project "Hitting Walls" have included a solo exhibition at Anthony Greaney, Boston (2009); a ball-making workshop at Machine Project, Los Angeles (2011); a lecture performance at Villa Romana, Florence (2015); and an article titled "Episodes in the Life of Bounce" in Cabinet no. 56. In 2014, Wing was well on her way to being one of the ninety thousand Wilson US Open balls put into play during the tournament, but at the last minute she was diverted to the US Tennis Association's bounce-testing facility for quality-control purposes. After proving that her bounce was indeed true (and thus validating her shipmentmates' readiness for professional play), she was unceremoniously repurposed as a buffer for the sharp edges of the very machine that had validated her bounce capacities. She continues to observe conditions of bounce from this post today.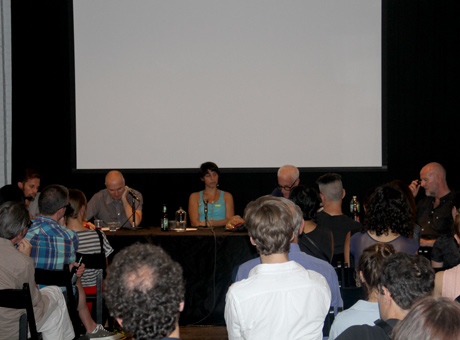 Beer for this event has been lovingly provided by Brooklyn Brewery.
Refreshments courtesy of Sprizz-O.