"Cabinet on Trial: /
A Magazine of No Qualities?"
Date: Wednesday, 30 January 2013, 6–8 pm
Location: South Court Auditorium, Stephen A. Schwarzman Building, New York Public Library, 5th Ave and 42nd St, New York (map and directions here)
FREE. No RSVP necessary
Organized by David Levine, George Prochnik, and Sina Najafi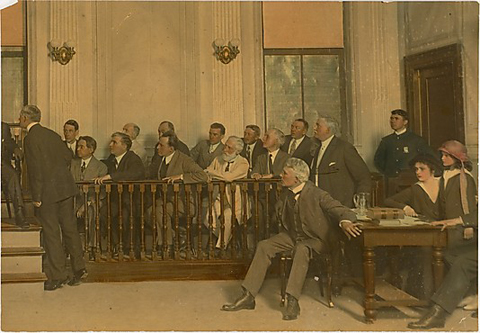 After the celebrations are over, every birthday invariably provokes introspection, inevitably leading to doubt, insecurity, and anxiety as you survey the chasm between aspiration and achievement, and between what you imagine you have accomplished and what others believe you have. Significant birthdays intensify this experience, and so the recent publication of Cabinet magazine's tenth-anniversary volume, Curiosity and Method, seemed the perfect occasion for Cabinet to drop its aversion to polemics and pick a fight—with itself.
Harking back to the avant-garde tradition of intellectual contestation in the guise of judicial proceedings, "Cabinet on Trial: A Magazine of No Qualities?" is a public hearing—replete with justices and attorneys—that will address the question of how to judge the responsibilities of a periodical today. In what ways can history be mobilized in understanding the present moment? What is the relationship between "timeliness" and "relevance"? What does it mean to be "engaged" today? What roles might truth and fiction play in producing an "accurate" picture of the world? Is curiosity a powerful tool for slowly but surely dismantling received orthodoxies, or does it simply produce an eclecticism that has no traction with regard to the most pressing issues of the day?
Overseen by justices Claire Bishop, Hal Foster, and Ben Wizner—who will deliver a verdict and mete out any necessary punishment—the proceedings will feature Julieta Aranda, D. Graham Burnett, Nick Denton, Natalie de Souza, Ben Kafka, Nina Katchadourian, Frederick Kaufman, David Levine, Gideon Lewis-Kraus, Sergio Muñoz Sarmiento, Sina Najafi, George Prochnik, Lytle Shaw, Mary Walling Blackburn, and Alexi Worth.
Though organized by Cabinet, the event is unscripted and will no doubt quickly go awry. Please be prepared for critical fisticuffs.
See press about "Cabinet on Trial: A Magazine of No Qualities?" in The Wall Street Journal and in Bookforum.
---
About the Participants
Julieta Aranda is an artist based in Berlin and New York. Her work has been exhibited at Witte de With (2013), Museo d'Arte Contemporanea Villa Croce, Genoa (2013), Documenta 13 (2012), Gwangju Biennial (2012), Venice Biennial (2011), and the Istanbul Biennial (2011), among others. As a co-director of e-flux together with Anton Vidokle, Aranda has developed the projects Time/Bank, Pawnshop, and e-flux video rental, all of which have traveled to venues worldwide.
Claire Bishop is associate professor in the PhD Program in Art History at CUNY Graduate Center, New York. Her publications include Installation Art: A Critical History (Tate/Routledge, 2005) and Artificial Hells: Participatory Art and the Politics of Spectatorship (Verso, 2012), and she is a regular contributor to Artforum.
D. Graham Burnett is an editor at Cabinet. He is the author of Masters of All They Surveyed (University of Chicago Press, 2000), A Trial by Jury (Knopf, 2001), Descartes and the Hyperbolic Quest (APS, 2005), Trying Leviathan (Princeton University Press, 2007), and The Sounding of the Whale (University of Chicago Press, 2012). He recently co-curated The Slice: Cutting to See at the Architectural Association in London. With Jeff Dolven, he teaches "Critique and Its Discontents" at Princeton University, where he runs the graduate program in History of Science.
Natalie de Souza is an editor at Nature Methods since 2006. Before working at Nature Methods, she studied cell fate in the roundworm at Columbia University and protein movement within cells at Rockefeller University. She has written for nature publications and for Cabinet.
Nick Denton is the founder of Gawker Media, the parent company of Gawker.com, Deadspin, Lifehacker, Gizmodo, io9, Kotaku, Jalopnik, and Jezebel. Denton studied politics and economics at Oxford University.
Hal Foster is Townsend Martin Class of 1917 Professor of Art and Archaeology at Princeton University. An editor at October, recent books include Prosthetic Gods (MIT Press, 2004), concerning the relation between modernism and psychoanalysis; and Design and Crime (Verso, 2002), The Art-Architecture Complex (Verso, 2011) and The First Pop Age: Painting and Subjectivity in the Art of Hamilton, Lichtenstein, Warhol, Richter, and Ruscha (Princeton University Press, 2011).
Ben Kafka is an associate professor of media theory and history at New York University and a candidate at the Institute for Psychoanalytic Training and Research (IPTAR); he works with adults and adolescents though the IPTAR Clinical Center and the NYC Free Clinic. His most recent article for Cabinet, written with Jamieson Webster, was about a copy of Anti-Oedipus hand-illustrated by Deleuze's children. Kafka is the author of The Demon of Writing: Powers and Failures of Paperwork (Zone Books, 2012).
Nina Katchadourian is an artist based in Brooklyn whose work engages a variety of media, including video, sound, photography, and sculpture. She is represented by Catharine Clark gallery in San Francisco and currently teaches at the NYU Gallatin School of Individualized Study.
Frederick Kaufman is a contributing editor at Harper's Magazine. His most recent book is Bet the Farm: How Food Stopped Being Food (Wiley, 2012).
David Levine is an artist and Cabinet contributor. He makes work about acting, spectatorship, and the labor involved in both. His most recent work in New York was Habit, a durational performance at the Essex Street Market in September, 2012. He is currently a Fellow at the Radcliffe Institute for Advanced Study at Harvard, and the Director of Studio and Performing arts at the ECLA/Bard College in Berlin, where he is a professor.
Gideon Lewis-Kraus writes about books and culture for Wired, Harper's, GQ, the London Review of Books, n+1, McSweeney's, and elsewhere. His digressive travel memoir, A Sense of Direction, about pilgrimage and restlessness, appeared this past spring from Riverhead Books.
Sina Najafi is editor-in-chief of Cabinet magazine.
Sergio Muñoz Sarmiento is an artist and art lawyer. He teaches contemporary art and law at Fordham Law School and founded the Art Law Program. Recently worked on an appeal on behalf of Christoph Büchel in the artist's dispute with the Massachusetts Museum of Contemporary Art, and has also co-written amicus briefs for the Seventh Circuit Court of Appeals and the US Supreme Court regarding another high-profile artists' rights case, Chapman Kelley vs. Chicago Park District.
George Prochnik is the author most recently of In Pursuit of Silence: Listening for Meaning in a World of Noise (Doubleday, 2010). He is currently completing a book about Stefan Zweig and exile, which will be published by Other Press. Prochnik is a regular contributor to Cabinet, and has written for Bookforum, The New York Times, The Boston Globe, and Playboy, among other publications.
Lytle Shaw is a New York–based writer and poet whose books include Cable Factory 20 (Atelos, 1999), The Lobe (Roof Books, 2002), Principles of the Emeryville Shellmound Shark Books (1998), and Frank O'Hara: The Poetics of Coterie (University of Iowa Press, 2006). With Jimbo Blachly, Shaw oversees the Chadwick family archive, which has been exhibited widely and is represented by Winkleman Gallery in New York. He teaches in the English Department at New York University.
Mary Walling Blackburn is an artist currently investigating extraterrestrial encounters as a form of expatriate experience and as a vehicle for rethinking the terms of the Other; her research has taken her to Turkey, France, and Texas. Forthcoming publications include a visual project for e-flux journal titled "Sister Apple, Sister Pig," and Ugly Duckling Presse will soon be issuing her broadsheet "Checklist: Apocalyptic Ecology."
Ben Wizner is the Director of ACLU's Speech, Privacy & Technology Project, which is dedicated to protecting and expanding the freedoms of expression, association, and inquiry; expanding the right to privacy; and ensuring that civil liberties are enhanced rather than compromised by new advances in science and technology. Wizner is a graduate of Harvard College and New York University School of Law.
Alexi Worth is a painter who shows with the DC Moore gallery in New York. He has received awards from the Guggenheim and Tiffany Foundations, taught at Yale and the University of Pennsylvania, and written for The New Yorker, Artforum, and T magazines.