Screening and Panel /
"Revisiting Extinct Sounds," with Sari Carel, Jonathan Sterne, and Leah Abir
Date: Friday, 30 September 2011, 7–9 pm
Location: Cabinet, 300 Nevins Street, Brooklyn (map and directions here)
FREE. No RSVP necessary
Organized by Artis
Listen to an audio recording of this program, or download
here
.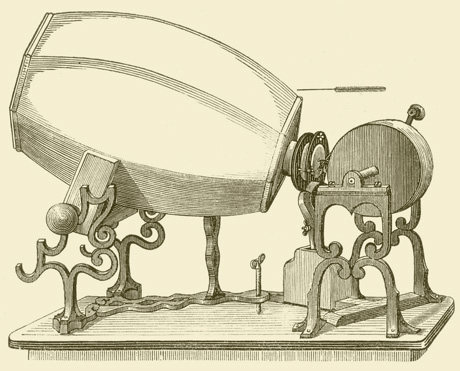 Please join artist Sari Carel and media scholar Jonathan Sterne for an evening of conversation addressing early experiments in sound reproduction and their link to contemporary sound culture. Moderated by Leah Abir, the evening will examine the relationship between sound and image, art and science, and imagination and technique through the mid-nineteenth-century device known as the phonoautograph. Invented by Edouard-Léon Scott de Martinville in 1857, the phonoautograph was a sound-visualizing machine that generated images of sound vibrations—images that resembled automatic drawings.
This early audiovisual mechanism was a starting point for Carel's Semaphore Island, a work in process that uses phonoautograph drawings generated by sound recordings of extinct birds, as well as for Sterne's book The Audible Past: Cultural Origins of Sound Reproduction, which outlines a comprehensive social historiography of sound culture. The event will feature footage of the only functioning phonoautograph that remains in existence today.
---
About the Participants
Sari Carel is a multidisciplinary artist based in New York. She works primarily with video and sound, focusing on the interplay between the visual and the auditory. In her work, Carel explores representations of both the natural and the designed, often in relation to the modernist ethos and its various mutations throughout the twentieth century. Carel's work has been exhibited internationally in venues such as Artists Space, Dumbo Arts Festival, Nicelle Beauchene Gallery, and Gavin Brown's Enterprise in New York; LAX Art and Young Projects in Los Angeles; and Tavi Dresdner, Contemporary by Golconda, and the Heder Gallery in Tel Aviv. She has been awarded numerous fellowships and residencies, including AIR at the Stundars Museum, Finland; AIR Vienna; the ISCP Program and Socrates Sculpture Park Artist Fellowship, New York; and the Bundanon Residency, Australia. Her next project will take place at Contemporary by Golconda, Tel Aviv, in December.
Jonathan Sterne teaches in the Department of Art History and Communication Studies and the History and Philosophy of Science Program at McGill University. He works on sound, the history and philosophy of technology, cultural studies, music, and digital media. He is author of The Audible Past: Cultural Origins of Sound Reproduction (Duke University Press, 2003); MP3: The Meaning of a Format (Duke University Press, 2012); and numerous articles on media, technologies, and the politics of culture. He is also editor of The Sound Studies Reader (Routledge, 2012), which surveys and analyzes classic work on sound in the human sciences. For more information, see sterneworks.org.
Leah Abir is the inaugural Artis Curatorial Fellow at Creative Time, working in the Programming Department on the upcoming "Living as Form" exhibition. A curator and writer in the field of contemporary art, she completed her BA in art history and postgraduate studies in museology at Tel Aviv University and is currently writing her MA thesis in the Modern Art Department at Haifa University. Over the past three years, Abir worked as the associate curator and director of programming for Museums of Bat Yam, and has independently curated exhibitions at various galleries and museums throughout Israel. She has written extensively on contemporary art for various international publications and exhibition catalogues, and has taught courses on the history of curating and modern and contemporary art in academic and private institutions.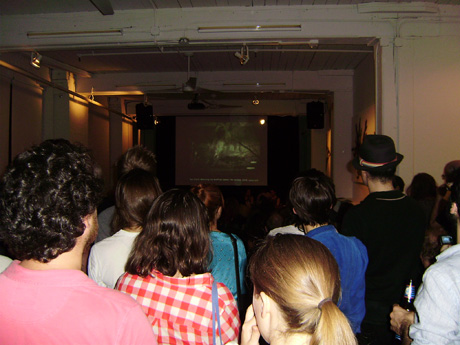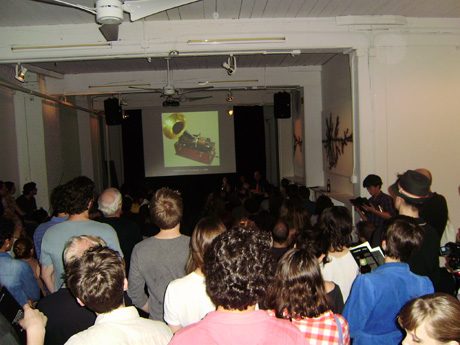 This event has been made possible by a generous grant from the New York State Council on the Arts. Beer for this event has been lovingly provided by Brooklyn Brewery.