Panel and Launch Event / "Clipping, Copying, and Thinking," with Ann Blair and Kenneth Goldsmith
Date: Friday, 18 March 2011, 7–9 pm
Location: Cabinet, 300 Nevins Street, Brooklyn (map and directions here)
FREE. No RSVP necessary
Listen to an audio recording of this program, or download
here
.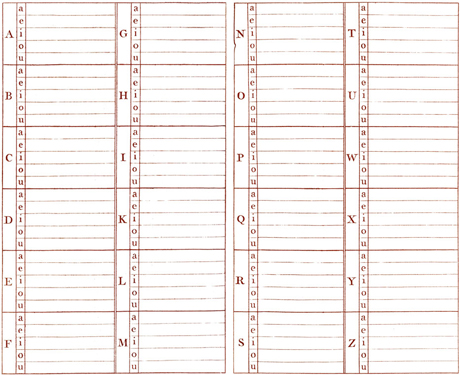 Pastiche and plagiarism, citation and collage, cut and paste—the many tactics of textual appropriation lie at the heart of word work. Scholars drop footnotes, poets cobble fragments of tradition, all of us keep notebooks, dog-ear pages, file bookmarks. In the process we shape selves, build arguments, and navigate the cosmos of the readable world.
On Friday, 18 March, Cabinet will celebrate the recent republication of A Little Common Place Book (a late eighteenth-century handbook on how to keep and index reading notes), with a panel discussion on creativity, cognition, and the technologies of information management. Join Harvard historian Ann Blair (author of Too Much to Know: Managing Scholarly Information before the Modern Age) and poet Kenneth Goldsmith (author of the forthcoming Uncreative Writing: Managing Language in the Digital Age) for a ranging conversation about textual practices and the life of the mind. The panel will be hosted by Cabinet editor D. Graham Burnett.
---
See press on "Clipping, Copying, and Thinking" in Tout-Fait.