The Crumpled Press at Five Years /
Traditional Techniques, Modern Media
Date: Saturday, 4 December 2010, 5:30–9:30 pm
Location: Cabinet, 300 Nevins Street, Brooklyn (map and directions here)
FREE. No RSVP necessary
5:30–7 pm: Hands-on bookbinding tutorial
7–8:30 pm: Presentations and discussion with Anthony Grafton, John Byron Kuhner, Regina Granne, and D. Graham Burnett
Music by the Matt Panayides Group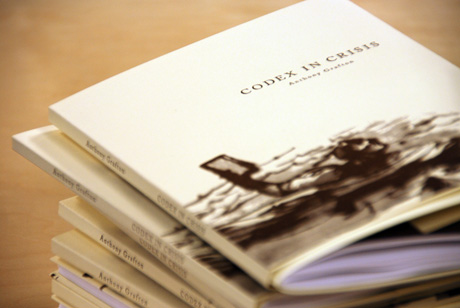 Five years ago, editors Alexander Bick, Nicholas Jahr, and Jordan McIntyre started making books by hand. The Crumpled Press has since introduced scores of people to the art of bookmaking at monthly "binding parties," coupling the latest printing technology with the pleasures of an archaic mode of production.
In the foreword to one of their books, Anthony Grafton's Codex in Crisis, the editors wrote:
When we created The Crumpled Press, in 2005, we sought to re-animate the pamphlet as an expressive form. But we soon realized that blogs had filled this niche. We began to think more seriously about the specificity and durability of print: we learned the languages of paper, type and binding. This doesn't mean that we rejected new technologies—indeed, our work would be impossible without the personal computer, the Internet, and the laser printer. Just as photography forced painters to reconsider their art, the Web has forced us to reconsider the possibilities of print.
To celebrate the occasion of its fifth anniversary, Crumpled Press is gathering at Cabinet's event space to make books, drink wine, and reflect on the relevance of traditional techniques to a digital age.
The evening will begin with a hands-on bookbinding tutorial, followed by a discussion moderated by D. Graham Burnett.
---
About the Participants
Princeton historian Anthony Grafton on the changing shape of contemporary media and the unlikely success of "publishing from the margins"
John Byron Kuhner reading from his newly-released set of essays, Staten Island; Or, Life in the Boroughs
Regina Granne discussing a selection of works on display from her retrospective, Increments: Drawings, 1970–1995
The evening will conclude with original jazz compositions performed by the Matt Panayides Group