Discussion and Book Launch /
"Ellen Harvey: Museum of Failure," with Ellen Harvey and Henriette Huldisch
Date: Thursday, 5 May 2016, 7–9 pm
Location: Cabinet, 300 Nevins Street, Brooklyn (map and directions here)
RSVP to ajohns@grmandco.com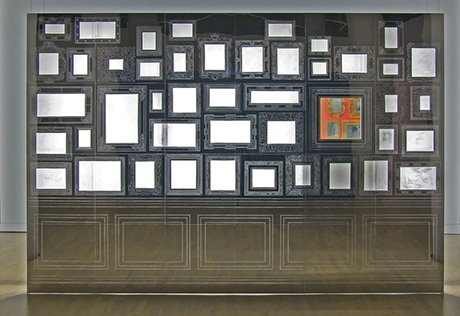 Ellen Harvey, Henriette Huldisch, and Gregory Miller invite you to a launch event to celebrate the publication of Ellen Harvey: Museum of Failure, published by Gregory R. Miller & Co. The evening, cohosted by Cabinet, also features a brief conversation between Ellen Harvey and Henriette Huldisch at 7:30 pm.
Harvey's practice incorporates painting, photography, video, installation, and public participation to examine our expectations about art and cultural production, their proper contexts, and what constitutes appropriate engagement. Taking its title from the ongoing project featured in the 2008 Whitney Biennial, Ellen Harvey: Museum of Failure is the first major retrospective publication on Harvey's work, looking at each of the major projects she has undertaken in the last sixteen years. The book includes a major new text on the artist by curator Henriette Huldisch and an in-depth interview with the artist by Adam Budak, curator of the National Museum, Prague. Fully illustrated with color images of nearly every work Harvey has produced, and beautifully designed by Project Projects, Ellen Harvey: Museum of Failure documents the development of the artist's highly original work.
---
About the Participants
Ellen Harvey is a British-born artist based in Brooklyn, New York. She took part in the Whitney Independent Study Program and the PS1 National Studio Program. She has exhibited extensively in the US and internationally and was included in the 2008 Whitney Biennial. Solo exhibitions include "Metal Painting" at the Barnes Foundation, Philadelphia; "The Unloved" at the Groeninge Museum, Bruges; "The Alien's Guide to the Ruins of Washington, DC" at the Corcoran Gallery of Art, Washington, DC; "The Nudist Museum" at the Bass Museum, Miami Beach; "Mirror" at the Pennsylvania Academy of Art, Philadelphia; and "A Whitney for the Whitney" at Philip Morris at the Whitney Museum at Altria. She has completed large-scale commissions for New York City's Percent for Art, New York Arts in Transit, the Chicago Transit Authority, the Flemish National Architect, and the Federal Art in Architecture program. Harvey is currently working on "Waterways," a new commission for the Miami Beach Convention Center to be installed in 2017.
Henriette Huldisch is curator at the MIT List Visual Arts Center in Cambridge, Massachusetts. Previously, she worked at Hamburger Bahnhof—Museum for Contemporary Art in Berlin while also serving as visiting curator at Cornerhouse, Manchester. From 2004 to 2008, she was assistant curator at the Whitney Museum of American Art, where she co-curated the 2008 Whitney Biennial, as well as curating "Small: The Object in Film, Video, and Slide Installation," among other exhibitions. Her publications include the 2008 Whitney Biennial catalogue (with Shamim M. Momin) and numerous contributions to exhibition catalogues and publications such as Artforum.
Beer for this event has been lovingly provided by Brooklyn Brewery. Refreshments courtesy of Sprizz-O.