Book Launch and Performance /
"48 Minutes," with Matthea Harvey, Amy Jean Porter, and David Scher
Date: Saturday, 1 October 2016, 4–6 pm
Location: Cabinet, 300 Nevins Street, Brooklyn (map and directions here)
FREE. No RSVP necessary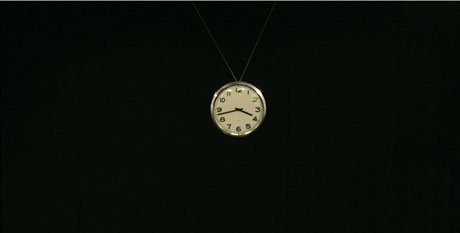 Please join us for an afternoon of live music, spontaneous drawing, and readings as we celebrate the recent publications of David Scher's Hail, Cretin! and Matthea Harvey and Amy Jean Porter's When Up and Down Left Town, volumes two and three in Cabinet's "24-Hour Book" series.
Artist David Scher's Hail, Cretin! features the melancholy peregrinations of a demi-centurion missing his upper half. Wandering through a land over which his forces perhaps once held dominion, our protagonist—a lonely postimperial half-man who seems fated to permanent homelessness—now experiences the flowers and stones of the landscape as if for the first time.
When Up and Down Left Town—a collaboration between poet Matthea Harvey and artist Amy Jean Porter—imagines a world where Up and Down, connected by horizontal zippers to the Middle, suddenly unzip themselves, leaving humans to experience a world without contrails or dachshunds.
For this launch event, the creators of each book have a strict twenty-four-minute limit for their portion of the program. Scher will use his allotted time to project a film while playing music with Timothy Kane. He will be followed by Harvey reading from When Up and Down Left Town while Porter produces a series of new drawings.
Audience members may be nudged toward participating in one or both portions of the program. Refreshments will, of course, be served.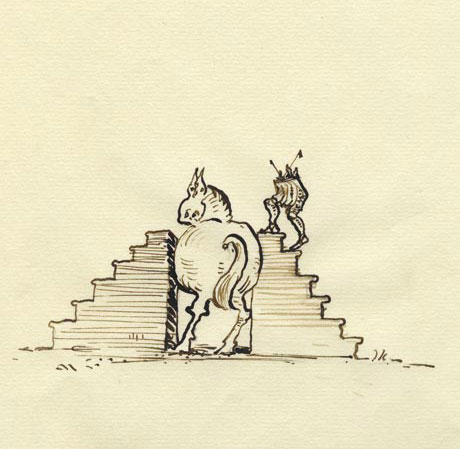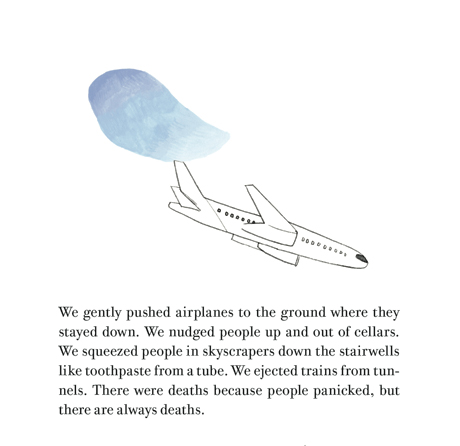 ---
About Cabinet's "24-Hour Book" series
Inspired by literary precedents such as automatic writing, by the resourcefulness of the bricoleur making do with what is at hand, and by the openness toward chance that all artistic production under severe constraint must necessarily incorporate, Cabinet's "24-Hour Book" series invites distinguished authors and artists to be incarcerated in an unfamiliar space to complete a project from start to finish within twenty-four hours.
About the Participants
David Scher is an artist living in New York City. He is represented by Pierogi in New York, Galerie Jean Brolly in Paris, and Galerie Ute Parduhn in Dusseldorf. In 1969, he cofounded o.n.e.m., a performance and music group that has persisted.
Matthea Harvey is the author of five books of poetry, most recently If the Tabloids Are True What Are You? and an erasure, Of Lamb, with drawings by Amy Jean Porter. She has also written two books for children.
Amy Jean Porter's drawings and installations have been shown in solo shows in New York, Los Angeles, and Paris, and featured in publications such as Cabinet, McSweeney's, and The Awl. Her books include Of Lamb, written by Matthea Harvey.
Cabinet wishes to thank the Andy Warhol Foundation for the Visual Arts for their support of this project.