Book Talk and Release Party /
"Acoustic Territories: Sound Culture and Everyday Life," with Brandon LaBelle
Date: Friday, 11 June 2010, 7–9 pm
Location: Cabinet, 300 Nevins Street, Brooklyn (map and directions here)
FREE. No RSVP necessary
Listen to an audio recording of this program, or download
here
.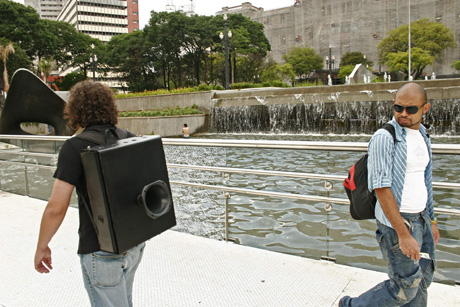 From underground environments to the home, Brandon LaBelle's new book Acoustic Territories (Continuum Books) traces the cultural and social movements of auditory life. The book continues the author's interest in sonic culture and extends his earlier work, Background Noise: Perspectives on Sound Art, elaborating on the dynamics of sonic materiality and experience. LaBelle follows sound as it appears in specific auditory designs, as it is mobilized within various cultural projects, and ultimately queries how it comes to circulate through everyday life as a medium for social transformation.
In celebration of its release, the author will present a performative reading aiming for the dynamics of sound culture and acts of listening.
Delicious drinks will be served courtesy of Hendrick's Gin.
---
About the Author
Brandon LaBelle is an artist and writer whose work explores the space between sound and sociality. He is the author of Background Noise: Perspectives on Sound Art (2006) and his work has been featured at exhibitions and festivals internationally, including "Sound as Media," ICC Tokyo (2000), "Bitstreams," Whitney Museum New York (2001), "Pleasure of Language," Netherlands Media Art Institute Amsterdam (2002), "Undercover," Museum of Contemporary Art, Roskilde (2003), "Radio Revolten," Halle (2006), "Poeticas da Voce,"; Museum of Contemporary Art, Niterói (2008), "Tuned City," Berlin (2008), and "Cut n Splice," London (2009). In addition, his Prototypes for the Mobilization and Broadcast of Fugitive Sound was exhibited at the Enrico Fornello gallery, Prato (2007) and Ybakatu gallery, Curitiba (2009). His ongoing project to build a library of radio memories was presented at Casa Vecina, Mexico City in 2008.