Exhibition /
"From Russia with Doubt," curated by Adam Lerner
Exhibition dates: 18–29 November 2013 (closed Thanksgiving)
Gallery hours: Monday to Saturday, 12–6 pm
Opening reception: Thursday, 14 November 2013, 7–9pm
Location: Cabinet, 300 Nevins Street, Brooklyn (map and directions here)
Organized by the Museum of Contemporary Art Denver and Cabinet
Listen to an audio recording of this program, or download here.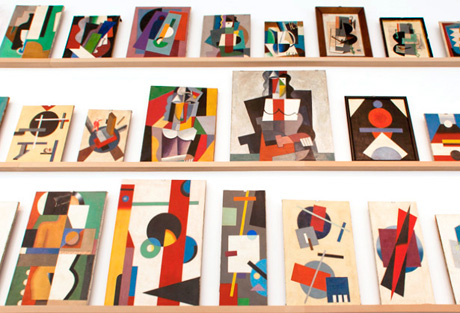 In 2010, Adam Lerner, the director of the Museum of Contemporary Art Denver, did something unheard of in the museum world: he mounted a large exhibition of paintings without first knowing whether they were real or fake. Painted in the Suprematist and Constructivist styles of early twentieth-century Russian avant-garde masters, the 181 canvases had been acquired by amateur collectors Ron and Roger Pollard from a mysterious seller in Germany. The man, who they met on eBay, claimed that the paintings had been found in an abandoned shipping container held in German customs since the 1980s.
This event—which celebrates the publication of From Russia with Doubt (Princeton Architectural Press), Lerner's book on the making of the exhibition and the stakes involved with showing unauthenticated artworks—also marks the opening of an exhibition co-organized by MCA Denver and Cabinet featuring a selection of paintings from the Pollards' collection. The evening will include a discussion with Lerner about the value of inauthenticity and the benefits of not knowing within the modern cultural institution.
---
About the Curator
Adam Lerner is the Director and Chief Animator of the Museum of Contemporary Art Denver. In 2004, he founded the Laboratory of Art and Ideas at Belmar (The Lab) to explore the changing nature of art and museums. Lerner's public programs have been adopted by museums throughout North America and a recent article in the New York Times stated that Lerner's work to engage audiences is "reshaping what has become a stale model for a contemporary art museum."