Book Launch and Panel /
"New Tendencies," with Armin Medosch, Michael Connor, Eva Díaz, and Rachel Wetzler
Date: Wednesday, 19 October 2016, 7–9 pm
Location:Cabinet, 300 Nevins Street, Brooklyn (map and directions here)
FREE. No RSVP necessary
Facebook Event
Listen to an audio recording of this program, or download
here
.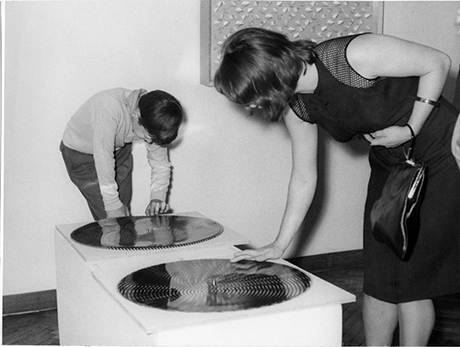 Please join Cabinet and Rhizome for a panel organized in conjunction with the recent publication of Armin Medosch's New Tendencies: Art at the Threshold of the Information Revolution (1961–1978).
The book, published by MIT Press, examines the international art movement known as New Tendencies. Emerging in the 1960s in the nonaligned country of Yugoslavia at a time when the world was organized around the bipolar logic of the Cold War, New Tendencies artists elaborated a decentered modernism that eschewed individual authorship and the autonomous work of art. Instead, they conceived of art as a research practice that addressed an actively engaged spectator.
Focused in Zagreb, the sprawling New Tendencies network included now well-known groups such as Zero and GRAV, but it has largely faded from art historical view. In his book, Medosch revisits the movement, suggesting that this period in European art history should be rethought through the lens of this network.
For the panel, Medosch will present key themes from the book and join in discussion with art historian and critic Rachel Wetzler, art historian and critic Eva Díaz, and Michael Connor, artistic director of Rhizome.
---
About the Participants
Michael Connor is artistic director of Rhizome, a digital art non-profit based at the New Museum. He has curated exhibitions and projects for Yarat, Baku; Cornerhouse, Manchester; the Museum of Moving Image, New York; ACMI, Melbourne; Bell Lightbox, Toronto; FACT, Liverpool; MocaTV; and British Film Institute, London. His writing has appeared in anthologies, including You Are Here: Art After the Internet (Cornerhouse, 2013), Abstract Video (University of Chicago Press, 2015), and The New Curator (Laurence King Publishing, 2016).
Eva Díaz is associate professor in the History of Art and Design Department at Pratt Institute in Brooklyn. She is the author of The Experimenters: Chance and Design at Black Mountain College (University of Chicago Press, 2015). Her writings have appeared in magazines and journals such as The Art Bulletin, Artforum, Art Journal, Art in America, Cabinet, Frieze, Grey Room, October, and Tate Etc., and in numerous museum exhibition catalogues. Her next book, The Fuller Effect: The Critique of Total Design in Postwar Art, will investigate the legacy of Buckminster Fuller in postwar and contemporary art.
Armin Medosch is a Vienna-based artist, curator, and scholar whose work focuses on the relationship between art, technology, and science. His essay "Shockwaves" was recently included in Companion to Digital Art (Wiley-Blackwell, 2016), edited by Christiane Paul. He is the initiator of the Technopolitics working group in Vienna, whose "Timeline of Information Society" will be presented at Transmediale 2017.
Rachel Wetzler is a New York–based critic and a doctoral candidate in art history at CUNY Graduate Center, where her research focuses on postwar art in Eastern and Central Europe. Her writing has appeared in numerous publications, including Artforum, Art in America, Artnews, and Rhizome.
This event is supported by the Austrian Cultural Forum New York City and the Art Department of the Federal Chancellery of Austria, and presented in partnership with Rhizome.