Book Launch and Conversation /
"Vocal Codes," with Angel Nevarez, Valerie Tevere, Kate Kraczon, and Everything Studio
Date: Wednesday, 26 October 2016, 7–9 pm
Location: Cabinet, 300 Nevins Street, Brooklyn (map and directions here)
FREE. No RSVP necessary
Facebook Event
Listen to an audio recording of this program, or download
here
.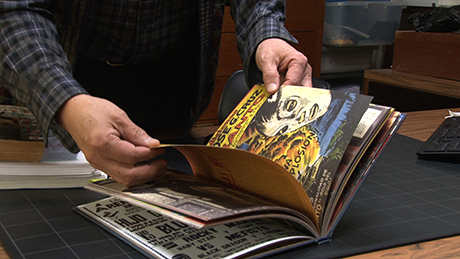 Please join us to celebrate the launch of Angel Nevarez and Valerie Tevere's catalogue published in conjunction with their recent survey exhibition at the Institute of Contemporary Art, University of Pennsylvania. The artists will be joined in conversation by ICA curator Kate Kraczon and designers Everything Studio (Jessica Green and Tom Griffiths). The conversation will be followed by music, care of Textual Records.
The catalogue, which features essays by Kraczon, Karen Tongson, and Susan Glassman, will be available for purchase.
---
About the Participants
Angel Nevarez and Valerie Tevere have been working collaboratively for more than fifteen years, the first seven under the collective name neuroTransmitter. Their projects and research investigate contemporary music and sound, the electromagnetic spectrum, dissent, and public fora. Nevarez and Tevere have exhibited in the US and internationally at the Museum of Modern Art, Creative Time, and the New Museum in New York; Henie Onstad Kunstsenter, Høvikkoden, Norway; Manifesta 8, Murcia, Spain; and Museo Raúl Anguiano, Guadalajara, Mexico, among others. Nevarez is on the faculty of the MFA Fine Arts Program at the School of Visual Arts, New York; Tevere is professor of media culture at CUNY's College of Staten Island.
Kate Kraczon joined the ICA in 2008 from the Museum of Contemporary Art, Chicago. She is currently organizing Ree Morton's first major retrospective in the United States in over three decades. Recent projects include the first museum exhibition of the work of Becky Suss (2015) and the survey of Nevarez and Tevere's collaborative practice (2016). She worked with Basel Abbas and Ruanne Abou-Rahme on the first North American presentation of their project "The Incidental Insurgents" (2015) and commissioned the video installation "Easternsports" by Alex Da Corte and Jayson Musson (2014).
Everything Studio (Jessica Green and Tom Griffiths) is a New York–based design studio working on books, magazines, websites, and graphic identities. Clients include 4Columns, Cabinet, BOMB, Futurepoem, and Verso Books.