School of Death /
Opening, Performance, and Talk
Date: Tuesday, 7 May 2013, 6–9 pm
Location: Family Business, 520 West 21st Street, New York
FREE. No RSVP necessary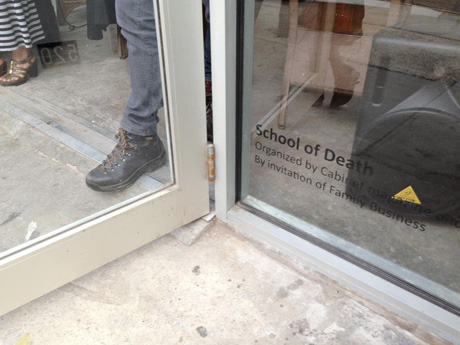 For the opening of the school, the organizers are pleased to present a reading of Giacomo Leopardi's 1824 "Dialogue between Fashion and Death" by Nikki Columbus and a surprise guest, as well as a short talk by D. Graham Burnett on "The Metachrotic Swan Song."
Read about other "School of Death" events here.
---
About Simon Critchley
Simon Critchley, who is not dead yet, teaches philosophy for a living at the New School for Social Research. He writes for the New York Times and his new book Stay, Illusion!: The Hamlet Doctrine, co-written with Jamieson Webster, will be published by Pantheon in June.
About Family Business
Family Business is an exhibition space initiated by Maurizio Cattelan and Massimiliano Gioni. It is a free time-share: a space made available to people who have something interesting to say; a way to get to know new families and friends. Family Business is powered by the Center for Curatorial Studies at Bard College. A guest + a host = a ghost. Nadja Argyropoulou is the Family Business guest (or ghost) curator for 2013.