Screening /
Vsevolod Pudovkin's "Mechanics of the Brain", with Michael Hagner in conversation with D. Graham Burnett
Date: Sunday, 11 April 2010, 7–9 pm
Location: Cabinet, 300 Nevins Street, Brooklyn (map and directions here)
FREE. No RSVP necessary
Listen to an audio recording of this program, or download
here
.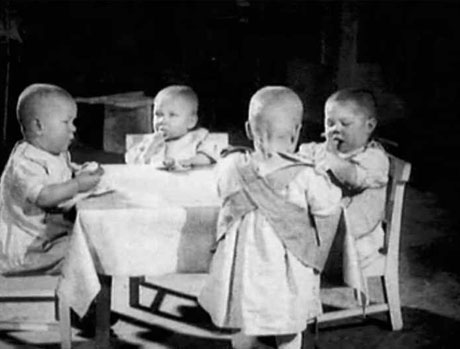 Vsevolod Pudovkin is primarily known as a realist filmmaker whose feature films Mother, Storm over Asia, and The End of St. Petersburg are brilliant examples of 1920s Soviet cinema. It is less known that he started his career in 1926 with The Mechanics of the Brain, a popular film on Pavlov's reflexology. Pudovkin's film practice drew on the technical possibilities of his apparatus, the artistic methods of the originally literary concept of factography, and the psycho-physiological knowledge he was supposed to document. This experimental setup generated sequences that were new and provocative to the broader public: Pavlov's dog tortured with electrical impulses to train its conditioned reflex; a frog hanging on a tab, as on a cross; the face of a woman in the throes of giving birth. These and other passages continue to be both fascinating and shocking to this day, and the film remains an invaluable document at the crossroads of art and science in the "Age of Extremes." The screening will be followed by a discussion with Michael Hagner, historian of science at the ETH Zürich.
For short clips from Mechanics of the Brain, see clip one, clip two, clip three, and clip four.
---
About the Presenters
Michael Hagner is professor of science studies at the ETH Zürich (Federal Institute of Technology). He studied medicine and philosophy at the Freie Universität Berlin and was senior scientist at the Max Planck Institute for the History of Science in Berlin between 1995 and 2003. He has published extensively on the history of the neurosciences, the history of cybernetics, and the function of visualization in the sciences. In 2008, he was awarded the Sigmund-Freud-Preis für wissenschaftliche Prosa by the Deutsche Akademie für Sprache und Dichtung.
D. Graham Burnett is an editor at Cabinet and teaches history of science at Princeton University.
This event has been made possible by generous grants from the New York State Council on the Arts and the Andrew W. Mellon Foundation.