Book Talk and Release Party /
"Cartographies of Time," by Daniel Rosenberg and Anthony Grafton
Date: Thursday, 15 April 2010, 7–9 pm
Location: Cabinet, 300 Nevins Street, Brooklyn (map and directions here)
FREE. No RSVP necessary
Listen to an audio recording of this program, or download
here
.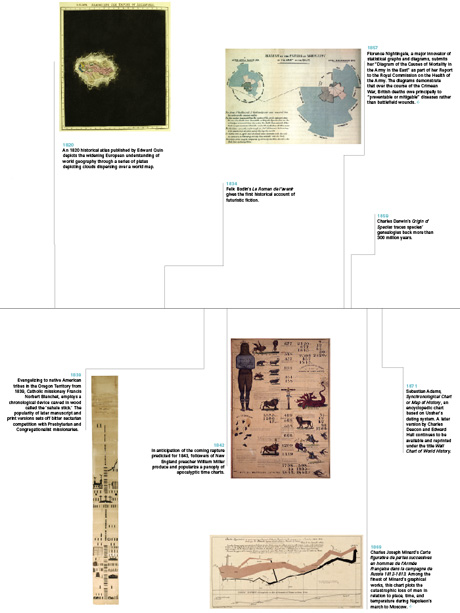 What does history look like? How do you draw time? Cartographies of Time by Daniel Rosenberg and Anthony Grafton (Princeton Architectural Press, April 2010) explores the history of the question since the beginning of the print era, tracing the surprising course of invention and critique that produced the now-ubiquitous format of the timeline. Join the authors for an illustrated stroll through graphic history, see Cabinet's new Timeline of Timelines installation (the poster is available for sale here), play Mark Twain's chronology game, and celebrate this month's release of Cartographies of Time with very old food and drink.
---
About the Participants
Daniel Rosenberg is associate professor of history in the Robert D. Clark Honors College at the University of Oregon. His work focuses on questions of representation in history. He is an editor at Cabinet, where he has published articles on Jell-O, sloth, and other things.
Anthony Grafton is Henry Putnam University Professor of History at Princeton University and a contributor to Cabinet. His books include Defenders of the Text (Harvard University Press, 1991), The Footnote: A Curious History (Harvard University Press, 1998), and Obelisk: A History (MIT, 2009).