Open House /
"A 6-Hour Window on a 24-Hour Book," with David Scher and friends
Date: Saturday, 14 May 2016, noon to 6 pm
Location: Cabinet, 300 Nevins Street, Brooklyn (directions here)
FREE. No RSVP necessary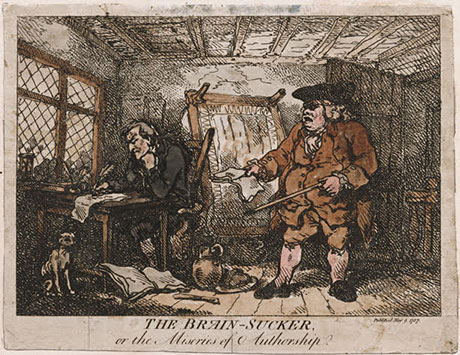 At 10 am on Saturday, 14 May 2016, artist David Scher will sit down at Cabinet's gallery space to begin making a book. By 10 am the next morning, the completed book will be at the printers and available shortly thereafter for readers.
Scher, who will arrive without any prepared material, will of course also have to remain open to the contingencies of an unfamiliar environment, dodgy takeout, and a makeshift bed, not to mention the obvious pressures of working under extreme time constraints. If that were not enough, this particular scene of artistic production will be a public one, with curious onlookers encouraged to drop in between noon and 6 pm on Saturday to watch Scher at work. Artist Michael Ballou will also be on display, periodically modeling various gladiatorial attitudes for Scher's sketches. Finally, to help him through the 24 hours, Scher's friends will join him in playing occasional live music. Please come!
---
About Cabinet's "24-Hour Book" series
Inspired by literary precedents such as automatic writing, by the resourcefulness of the bricoleur making do with what is at hand, and by the openness toward chance that all artistic production under severe constraint must necessarily incorporate, Cabinet's series invites a number of distinguished authors and artists to be incarcerated in its gallery space to complete a project from start to finish within 24 hours. More information about the first volume in the series—writer Brian Dillon's I Am Sitting in a Room—is available here.
About the Artist
David Scher is an artist living in New York City. He is represented by Pierogi in New York, Galerie Jean Brolly in Paris, and Galerie Ute Parduhn in Dusseldorf. In 1969, he cofounded o.n.e.m., a performance and music group that has persisted.
Cabinet wishes to thank the Andy Warhol Foundation for the Visual Arts for their support of this project.