Talk /
Jane Taylor on "Being Led by the Nose: William Kentridge's Metropolitan Opera Project"
Date: Thursday, 4 March 2010, 7–9 pm
Location: Cabinet, 300 Nevins Street, Brooklyn (map and directions here)
FREE. No RSVP necessary
Listen to an audio recording of this program, or download here.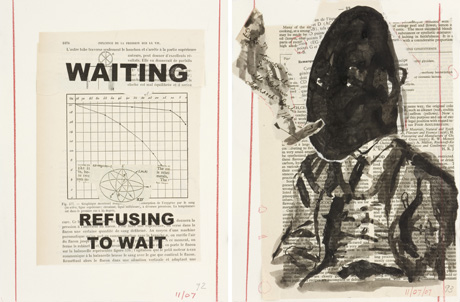 Nikolai Gogol's story of a man whose nose absconds to lead an independent existence is both a work of anarchic imagination and a political satire. In her talk, Jane Taylor, William Kentridge's long-time collaborator, will examine the past four years of the artist's preparations for his current production of Shostakovich's 1930 opera The Nose and will suggest that the distinctive combination of folly and intention in the opera is sympathetic to Kentridge's own purposes as an artist working in South Africa during an era of momentous upheaval and transformation. She will be screening a wide selection of the artist's etchings, sculptures, drawings, as well as sequences from the workshops through which the director was evolving a mode as well as an aesthetic for engaging with this most distinctive operatic experiment.
---
About the Speaker
Jane Taylor is a writer, critic, curator, and scholar who has worked with William Kentridge over the past twenty years. She wrote the playtext for Ubu and the Truth Commission and The Confessions of Zeno, both of which were directed by Kentridge, and which travelled extensively internationally. She has lectured often on Kentridge's work, and most recently opened his show at the Tokyo MoMA. She is currently writing a book on the making of The Nose.