Book Launch and Discussion /
"Crochet Coral Reef: Art, Science, and Handicraft in the Age of the Anthropocene," with Margaret Wertheim and McKenzie Wark
Date: Thursday, 30 April 2015, 7–9 pm
Location: Cabinet, 300 Nevins Street, Brooklyn (map and directions here)
FREE. No RSVP necessary
Listen to an audio recording of this program, or download
here
.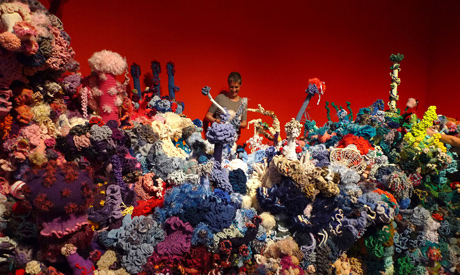 Please join us to celebrate the publication of Margaret Wertheim and Christine Wertheim's book Crochet Coral Reef (Institute For Figuring Press, 2015). The evening will feature a presentation by Margaret Wertheim followed by a discussion between her and McKenzie Wark, author of Molecular Red: Theory for the Anthropocene.
In 2005, as a response to the devastation being wrought on reefs around the world by global warming and ocean acidification, sisters Margaret and Christine Wertheim began to crochet a coral reef in their Los Angeles living room. Over the past decade, this unlikely fusion of fiber art, environmental science, mathematics, and feminism has morphed into a global practice as the Wertheims have worked with communities from New York to London to Abu Dhabi to bring into being a worldwide archipelago of crochet reefs. To date, almost 8,000 people have participated in this quiet but vast response to the critical environmental issues of our age.
The "Crochet Coral Reef" project also has roots in mathematics; its frilly forms are manifestations of what is known as hyperbolic geometry, an alternative to the Euclidean geometry we learn about in school. Loopy kelps, crenelated corals, and curlicued sponges are all variations of a structure that mathematicians long thought impossible. While brainless corals effortlessly make hyperbolic surfaces, for humans it is not so easy. Only in 1997 did Cornell University mathematician Dr. Daina Taimina discover how to make models of this shape—using the art of crochet.
Experimenting with, and elaborating on, her simple technique, the Wertheims and their global network of crochet contributors have spent the past decade developing a taxonomy of reef-like forms. These proliferating crochet coral "species" together constitute an ever-evolving woolen archipelago, one that lies at the intersection of mathematics, environmentalism, and handicraft.
Copies of Crochet Coral Reef will be available for purchase.
---
About the Participants
McKenzie Wark is the author, most recently, of Molecular Red: Theory for the Anthropocene (Verso Books, 2015) and teaches at the New School for Social Research.
Margaret Wertheim is a science writer, curator, and director of the Institute For Figuring, a Los Angeles–based organization devoted to the poetic and aesthetic dimensions of science and mathematics. The IFF's "Crochet Coral Reef" has been exhibited at the Hayward Gallery in London, the Smithsonian's National Museum of Natural History in Washington, DC, and will be on display at the Minneapolis Institute of Arts in the summer of 2015.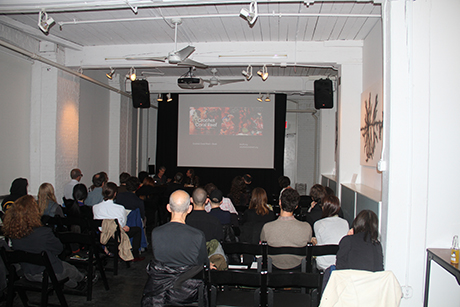 Beer for this event has been lovingly provided by Brooklyn Brewery. Refreshments courtesy of Sprizz-O.