Exhibition /
"Living in the Ruins of the Twentieth Century"
Dates: 16 April–17 May 2013
Location: UTS Gallery, University of Technology, Sydney, Australia
Gallery Hours: Monday to Friday, 12–6 pm
Opening Reception: Tuesday, 16 April 2013, 6–8 pm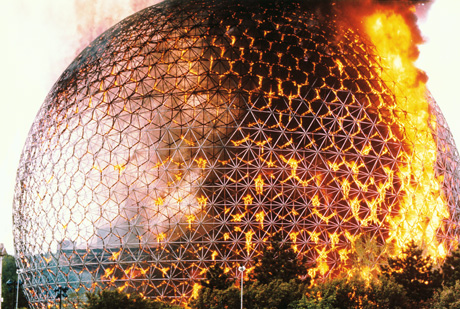 "Living in the Ruins of the Twentieth Century" is a celebration of curiosity through the profound and the mundane.
Presenting a vision of the twentieth century as a history of false starts, obsolete technologies, and unrealised utopias, "Living in the Ruins" is an archaeological dig into the material culture that shapes our present. In association with Cabinet, curators Adam Jasper and Holly Williams draw together objects from art, science, and ethnography in an investigation of the ruins, remnants, and ill-fated prototypes that defined a century already far enough in the past to be foreign to us, but close enough that we still have no fitting monuments for it.
"Living in the Ruins" creates a contemporary Wunderkammer that traverses diverse themes from islands to explosions and giant spheres. The exhibition will be anchored by a reading room of Cabinet publications (the only complete collection in Australia) and will be accompanied by a print and online project developed by Zoe Sadokierski and a colloquium on post-disciplinary curation facilitated by Lizzie Muller.
The exhibition combines artefacts from the Macleay Museum and the University of Sydney, the Museum of Old and New Art, the Westpac Archives and the Powerhouse Museum with articles from Cabinet and works by Australian and International artists.
To read more about this exhibition and view a selection of works on display visit livingintheruins.net [link defunct—Eds.].
---
With artworks by:
Daniel Knorr
Patrick Pound
Gianni Motti
Hany Armanious
Maria Friberg
Roman Signer
Sarah Pickering
Nicholas Mangan
Vicky Browne
Institute of Critical Zoologists
Jaki Middleton & David Lawrey
David Haines & Joyce Hinterding
Michael Stevenson
Alex Gawronski
Nadia Wagner
Matthew Shannon
Lillian O'Neil
and others
Supported by The Centre For Contemporary Design Practices