Exhibition /
"Pre-Retroscope VI—Gowanus Journey," by Conrad Shawcross
­­­
­Date: 20 June–10 July 2009
­­Location: 300 Nevins Street, Brooklyn, NY
Gallery hours: Tuesday to Saturday, 12-6 pm, and by appointment
Opening reception: Saturday, 20 June, 6–8 pm
Artist talk: Saturday, 20 June, 5–6 pm
Listen to an audio recording of this program, or download
here
.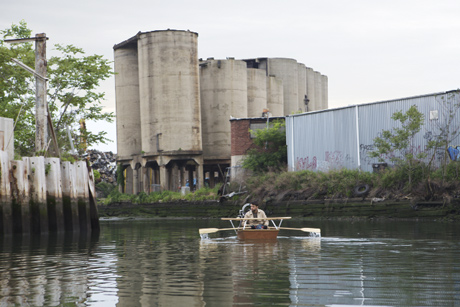 Cabinet is pleased to present "Pre-Retroscope VI—Gowanus Journey," a solo exhibition by British artist Conrad Shawcross. Documenting an expedition undertaken this spring along the length of Brooklyn's Gowanus Canal using a specially adapted rowboat, the exhibition—a compelling fusion of urban performance, exploration, and the processes of scientific discovery—will include video taken on Shawcross's voyage, as well as drawings, photos, and the vessel itself.
The centerpiece of the exhibition is Pre-Retroscope VI, a hand-built boat carrying a special device for capturing 360-degree panoramic videos on bodies of water. During voyages, a motor-driven platform holds a camera that takes in the full view of its surroundings as it slowly moves around a circular track mounted to the top of the small craft. Reconfigured in the gallery to accommodate a projector, this same revolving apparatus then "re-tells" the voyage by projecting the resulting footage on a small screen that moves in synchronization with it. The form of Pre-Retroscope VI's transmission—evoking the rotation of a lighthouse beacon—suggests the impossibility of a comprehensive understanding of our surroundings.
The most recent in a series of expeditions that began with a trip last summer on the River Lea in London, "Pre-Retroscope VI—Gowanus Journey" represents the first of Shawcross's explorations of New York City's little-known inland canal systems.
---
About the Artist
Conrad Shawcross is renowned for his ambitious works that engage such disciplines as physics and metaphysics, biology, geometry, philosophy, and cosmology. Born in 1977, Shawcross lives and works in London. He has had solo exhibitions at Jenaer Kunstverein, Germany (2008); the New Art Gallery, Walsall, the Walker Art Gallery, Liverpool (2005); and the National Maritime Museum (2004). His work has also been exhibited internationally at institutions including Musée d'art Contemporain, Lyon (2008); Art Basel 39 (2008); La Chapelle de L'Ecole National Supérieure des Beaux-Arts de Paris (2008); the Saatchi Gallery (2004); and Manifesta 5, San Sebastian, Spain (2004). Represented by the Victoria Miro Gallery in London, Shawcross has been in residency at Location One in New York since September 2008. He will have a solo exhibition at New York's PaceWildenstein Gallery in the spring of 2010.
Special thanks to the Gowanus Dredgers Canoe Club for their help on this project.