Spring 2014
Anthropomorphic Erratics of Fairfield County, Connecticut
A speculative archaeology
Richard Klein
There is another class of objects which commanded the attention, and to all appearances, the veneration and perhaps worship of these ancient peoples. A stone which from some natural cause assumed the shape of a man or an animal was held in special esteem. ... Such objects were regarded as fit dwelling places for some manitou or spiritual influence.
—Charles C. Jones, Antiquities of the Southern Indians, Particularly of the Georgia Tribes (1873)[1]
Scattered along a narrow, north–south trending band in southwestern Connecticut are numerous naturally formed rocks that are notable for the singularity of both their form and material. Dragged out of the woods and fields by eighteenth- and nineteenth-century farmers during the heyday of New England agriculture, the stones are frequently perched in prominent locations along the back roads of the region. Surprisingly, this study marks the first time that these curiosities have been put into a broad historical perspective that includes research into the specific geologic and cultural landscape in which they occur, as well as contemplation of cultural attitudes towards natural found objects. Their story touches on geology, agricultural practices, glaciology, Native American religion, the psychology of form, and speculative archaeology.
I gradually became aware of the stones' existence in the early 1990s during weekend cycling trips on the roads of Fairfield County. The first stone that caught my attention was a specimen that I passed frequently on the Westport–Fairfield border. A year or two later, I realized that this stone was not an aberration when I noticed another one in Redding Ridge, fifteen miles to the north. Over the remaining years of the decade, I came across more than a dozen additional stones, including a spectacular example in Newtown. Sadly, it was at this point that the first stone disappeared, falling victim to the construction of a McMansion, a symptom of the 1990s real estate boom. But my curiosity had been piqued and I began to inquire about the stones, particularly pursuing individuals whose interests tended toward local lore. Driving past a specimen in Fairfield one day, I stopped to ask the homeowner on whose property it sat (he was outside raking leaves) if he knew anything about the stone in question. "No, not really," he responded, "but there are more of them in Southport Park."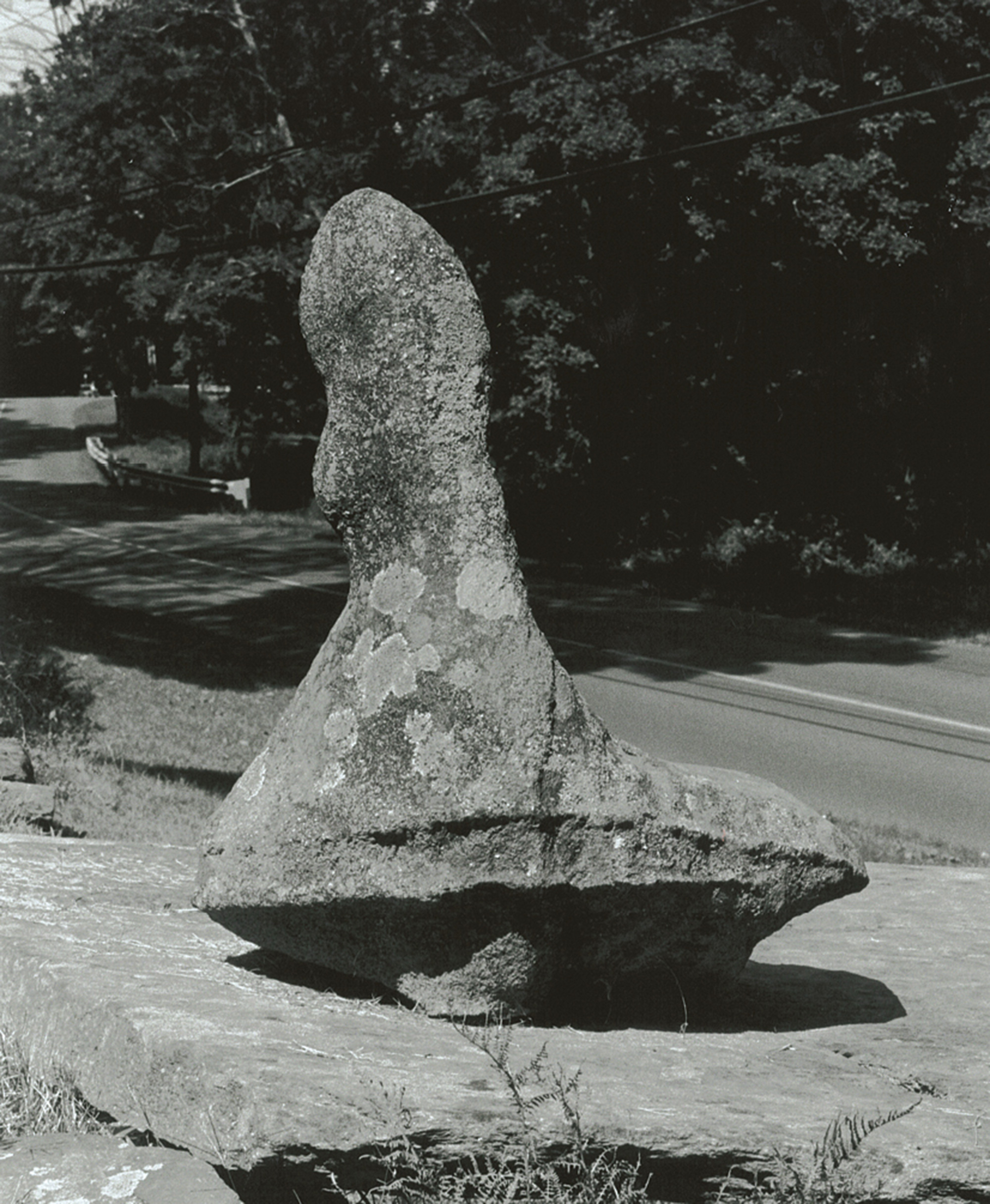 I'd never heard of Southport Park (Southport is an area in the southwestern part of the town of Fairfield), but drove the short distance with keen anticipation. The overgrown, completely forested nine-acre park was so easily overlooked it took a while to find it, wedged in between the Boston Post Road (US Route 1) and the tracks of the Metro North Railroad.[2] An old sign stated that the park was the "Property of the Sasquanaug Association, est. 1914." Passing through an entranceway in a tumbledown stone wall, I was greeted by a pair of huge, shaped stones in close proximity, the larger of the two weighing in excess of several tons. A short, three-hundred-foot walk into the park revealed a third stone perched in woods at the crest of a small hill. What was the story of this park, and what was the Sasquanaug Association? I soon learned that I was not the first person of European descent to take an interest in these stones; that distinction belonged to a character named Cyrus Sherwood Bradley.