Date: Saturday, 1 May 2010, 8–11 pm
Location: The Italian Academy, 1161 Amsterdam Avenue, New York
Featuring:Master of Ceremonies Jonathan Ames; bingo with artworks by Spencer Finch and Terry Winters as prizes; a performance by Dorit Chrysler on her splendid theremin; open bar with the "Cabinet" cocktail; and more.
Full program available as PDF here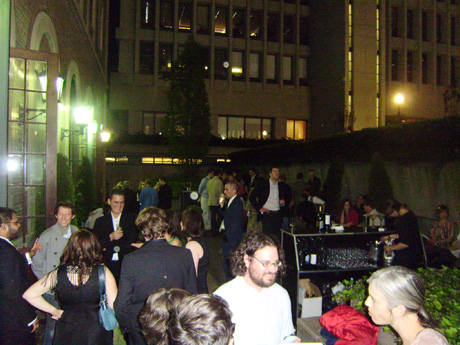 The glorious patio of the Italian Academy.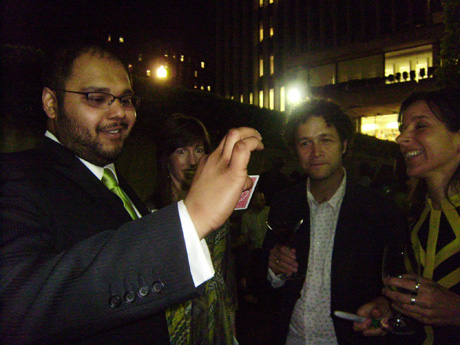 Prakash Purdu, close-up magician from the Artifice Group blowing guests' minds. Note Philippa Kaye's googly eyes.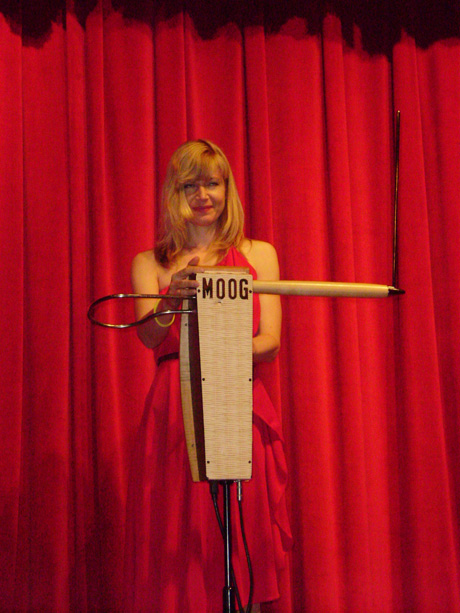 The extraordinary Dorit Chrysler on her theremin.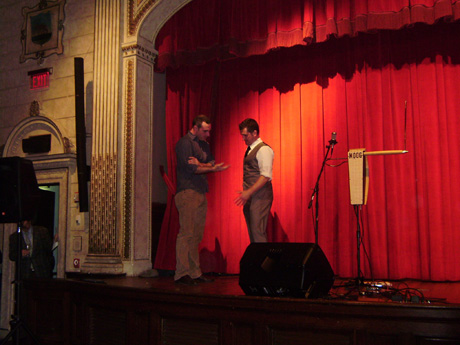 Jeff Grow, member of the Artifice Group puts a cigarette through Tom DeKay's shirt.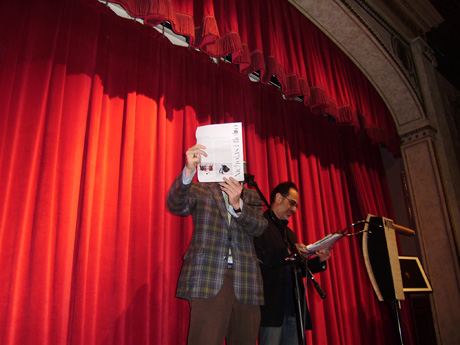 Jonathan Ames and Sina Najafi pick random numbers from pages torn out of competing publications. The prize for this game of bingo? A beautiful artwork by Spencer Finch.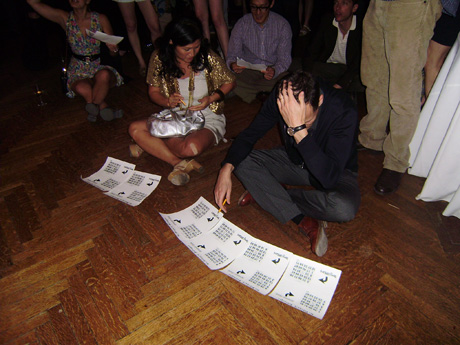 Hesu Coue-Wilson and Edward Wilson poring over their bingo cards in their quest to win the Spencer Finch photograph.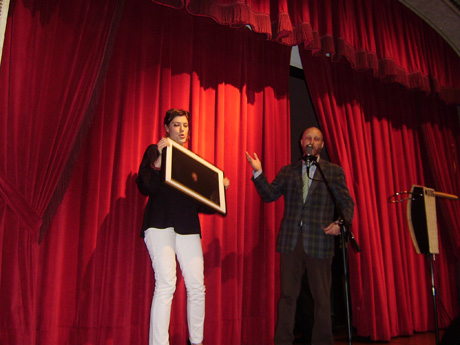 The winner of the Spencer Finch artwork claiming her prize.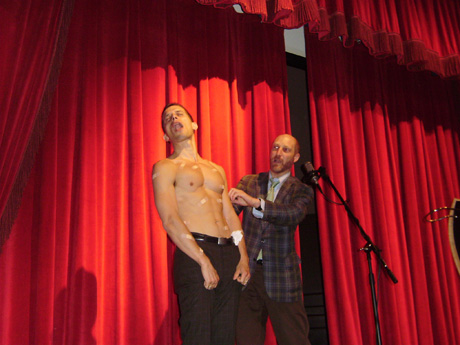 Intrepid Cabinet editor D. Graham Burnett offers his torso for a game of band-aid bingo.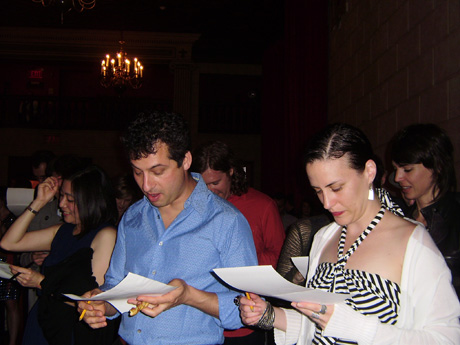 Ben Yalom and Fiona Maazel concentrating on their bingo cards.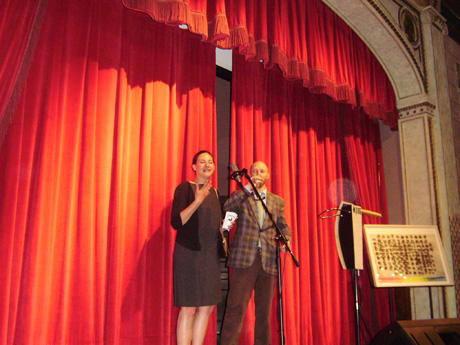 Jeanine Herman, the lucky winner of a glorious lithograph by Terry Winters.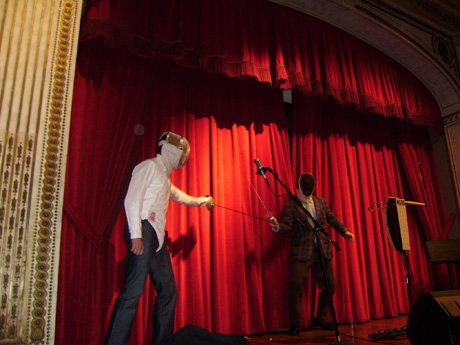 Jonathan Ames, ex-fencer, being challenged to a duel by a masked man claiming to be Russell Wilson, the Columbia fencer who was the subject of the story that Ames had just narrated.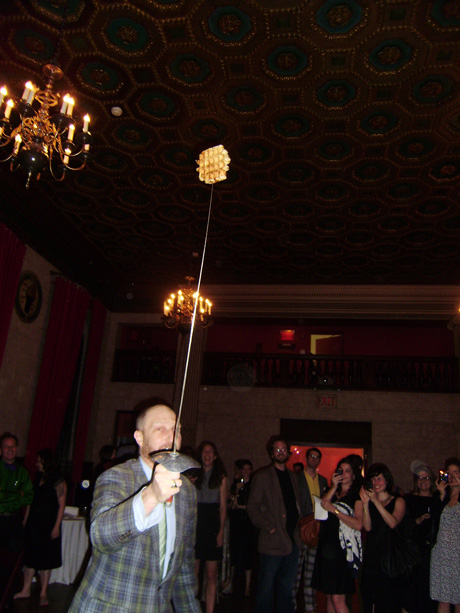 Ames and the masked man fence their way out of the building. No one knows who won but Ames returns holding a hot waffle on the tip of his sword.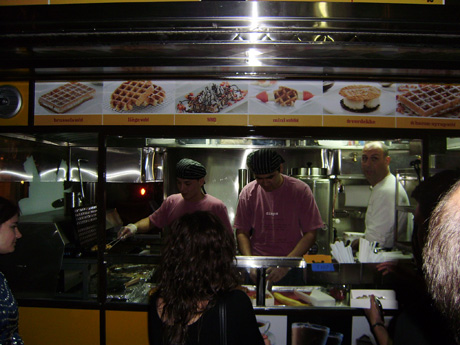 In lieu of catering, the Waffels and Dinges truck served hot treats to all the guests.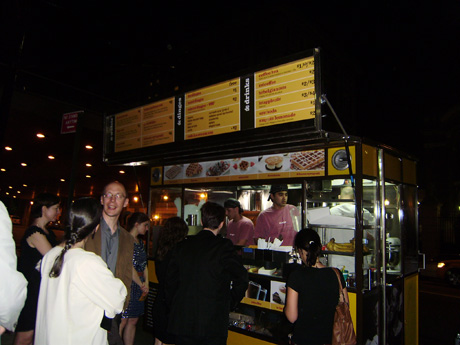 The waffle truck in full flow.