Bunk Bed Conversation /
"On Friendship, Intimacy, Tact, and Turtles," with Svetlana Boym & Leland de la Durantaye
Date: Friday, 21 May 2010, 7–9 pm
Location: Cabinet, 300 Nevins Street, Brooklyn (map and directions here)
FREE. No RSVP necessary
Listen to an audio recording of this program, or download
here
.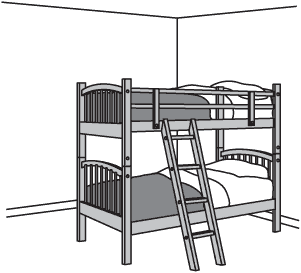 From the top and bottom bunks, respectively, Svetlana Boym and Leland de la Durantaye will consider different modes of friendship and intimacy. Jars of anchovy paste may be shared.
This is the third event in a series of bunk bed conversations at Cabinet, exploring the public potential of this most private, archaic, and companionable of American scenes.
For a list of all the bunk bed conversations, as well as audio and images from the other installments, see here.
Delicious drinks will be served courtesy of Hendrick's Gin.
---
About the Sleepy Participants
Svetlana Boym is a theorist and media artist who teaches in the Department of Comparative Literature at Harvard University. She is the author of The Future of Nostalgia (Basic Books, 2001), the novel Ninochka (SUNY Press, 2003), Architecture of the Off-Modern (Princeton Architectural Press, 2008), and Another Freedom: An Alternative History of an Idea (University of Chicago Press, 2009).
Leland de la Durantaye is the Gardner Cowles Associate Professor of English at Harvard University. He is the author of Style is Matter: The Moral Art of Vladimir Nabokov (2007) and Giorgio Agamben: A Critical Introduction (2009). Alongside his scholarly work, he has written for the Boston Globe, the Believer, Harvard Review, Modern Painters, Bookforum, and the Village Voice.