Screening and Talk /
Jane Taylor on Handspring Puppet Company
Date: Tuesday, 12 April 2011, 7–9 pm
Location: Cabinet, 300 Nevins Street, Brooklyn (map and directions here)
FREE. No RSVP necessary
Listen to an audio recording of this program, or download
here
.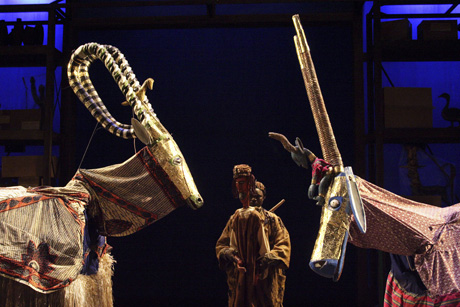 Over the past three decades, South Africa's Handspring Puppet Company has developed an aesthetic based on a complex entanglement of human bodies and handmade puppets. Committed to pioneering an artistic practice that relies on familiar and at times archaic mechanical forms (what cofounder Adrian Kohler has called "up-to-the-minute seventeenth-century technology"), Handspring's artistic philosophy is based on "self-limiting technologies" that assert the value of the human in our precarious times.
Following its hugely successful run at London's National Theatre, Handspring's War Horse opens at Lincoln Center in April. Jane Taylor will present work made by Handspring in collaboration with filmmaker William Kentridge, and then present a talk on the aesthetic, political, and philosophical implications of the group's subtle and complex work.
---
About the Speaker
Jane Taylor is a writer, curator, and scholar who has worked with Handspring developing two major works: she wrote the script for Ubu and the Truth Commission and the libretto for The Confessions of Zeno/Zeno at 4am. She is also CEO of Handspring Trust, a nonprofit organization that seeks to use new puppetry arts in developing an environment of aesthetic experiment and in exploring (both through practice and theory) the complex relationships between subjects and objects within the setting of contemporary South Africa. Taylor's last appearance at Cabinet was in March 2010 when she presented a talk on William Kentridge's production of The Nose for the Metropolitan Opera in New York.
This event has been made possible by a generous grant from the New York State Council on the Arts.