Exhibition /
Uqbar Foundation's "Zeno Reminder"
­Date: 13–27 November 2009
Location: Cabinet, 300 Nevins Street, Brooklyn, NY
Gallery hours: Tuesday to Saturday­, 12–6 pm, and by appointment (closed on November 26)
Co-presented by Performa and Cabinet.­­­ Curated by Defne Ayas.
FREE; no RSVP necessary
Opening reception: Friday, 13 November, 6–8 pm
Screening of Nobody Was Tomorrow: Friday­, 13 November, 7 pm
Reading of "Summer Maneuvers"­­: Friday, 20 November, 7 pm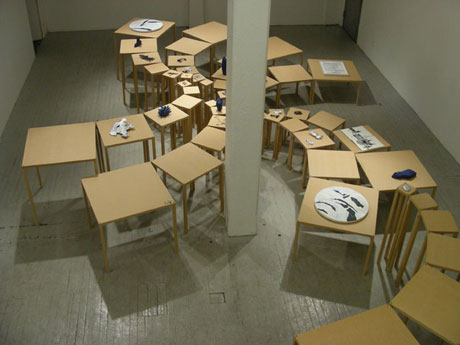 An installation by Uqbar Foundation (a collaboration between Mariana Castillo Deball and Irene Kopelman), "Zeno Reminder" uses the Futurist credo that machines will improve human efficiency and speed to play with the bonds and ruptures between nature and technology. Sculpture-structures inspired by Futurist artist Fortunato Depero will serve as a setting for an array of objects—including sculptures, drawings, and paintings—that pose the question: "What would the style of a creative automaton be?" 
Probably a "spasmodic machine," one that feels the need to produce disorder, turning its own codes upside down. Like such a machine, our technological culture must "fail" if it is to succeed, for its very failures constitute that which it is trying to measure, harness, or predict. If the predictions of science were completely exhaustive, would nature become technology, and vice ver­sa?
The opening will feature a screening of Castillo Deball's video Nobody Was Tomorrow (2007). Taking the style of a children's tale, the work consists of three characters telling their own stories: Nobody, an accelerating aging machine in Belgrade's National Library; the huge ficus tree inside the House of Culture in Čačak, Serbia; and the archaeological remains of the Roman baths, also in Čačak. All the characters in the story are real, but the connections between them are fictional.
On Friday November 20, Reinaldo Laddaga, associate professor of romance languages at the University of Pennsylvania, will read from "Summer Maneuvers," his libretto for a forthcoming musical theater piece made in collaboration with the composer Claudio Baroni and the artist Fabian Marcaccio. For an audio recording of "Summer Maneuvers," see here.
The text narrates a trip taken by a group of ragtag combatants who have planned to attack a hotel in a resort town whose name is not known. The group is never identified, and neither are their intentions. They bring with them a child whom they have found and who has become their talisman. The narrative describes a trip through a region that is poor and, in some ways, archaic. Towards the end of the narrative, they are ready to attack, but doubtful if there is anybody to attack: the place seems to have been deserted.
For more on Reinaldo Laddaga's "Summer Maneuvers," see here.
---
About the Artists
Uqbar Foundation was initiated by Castillo Deball and Irene Kopelman in 2006. It aims to generate a platform for interdisciplinary practice and discussion, creating a dialogue among artists, scientists, and institutions, and developing new ways of collaboration with different areas of knowledge, individuals, and institutions such as museums, universities, archives, and libraries.­