Winter 2001–2002
The Pigment Connoisseur
Art Guerra's kaleidoscopic world
Gregory Williams
When I called Art Guerra recently at one of his Brooklyn warehouses, he asked me to call back shortly since, as he put it, "I'm up to my elbows in Ultramarine Blue." The founder of Guerra Paint and Pigment in New York's East Village, he is constantly hunting around for neglected pigments gathering dust in the storage facilities of pigment-dispersion companies and automotive plants. Going through his large collection of manufacturers' catalogs, he makes frequent phone calls and inquires after unneeded pigments. Many of these companies don't have a thorough knowledge of their own inventories and are happy to unload unidentifiable substances. Yet as an honest entrepreneur, Guerra only buys things if he knows what the barrel contains, which can entail some research.
In his ongoing quest to find elusive and rare pigments, Guerra takes a decidedly hands-on approach. His diligence has garnered a fair amount of success, such as cornering the worldwide market on the supply of Indo Double Scarlet. The ultimate triumph for a pigment collector is to find and acquire a so-called "extinct pigment"—one that is no longer produced and distributed—housed in a drum in a forgotten corner of an industrial warehouse. Guerra was once faced with the highly tempting offer to buy a container of Cobalt Arsenate, a once-popular violet pigment that has been illegal for over forty years. After some soul searching, Guerra declined to purchase the dangerous goods. But he has managed to obtain other interesting materials with evocative monikers such as Cat-Tail Brown and Hooker's Green. These names give the merchandise at Guerra Paint and Pigment a more down-to-earth accessibility than the average ready-made paint that comes in premixed tubes.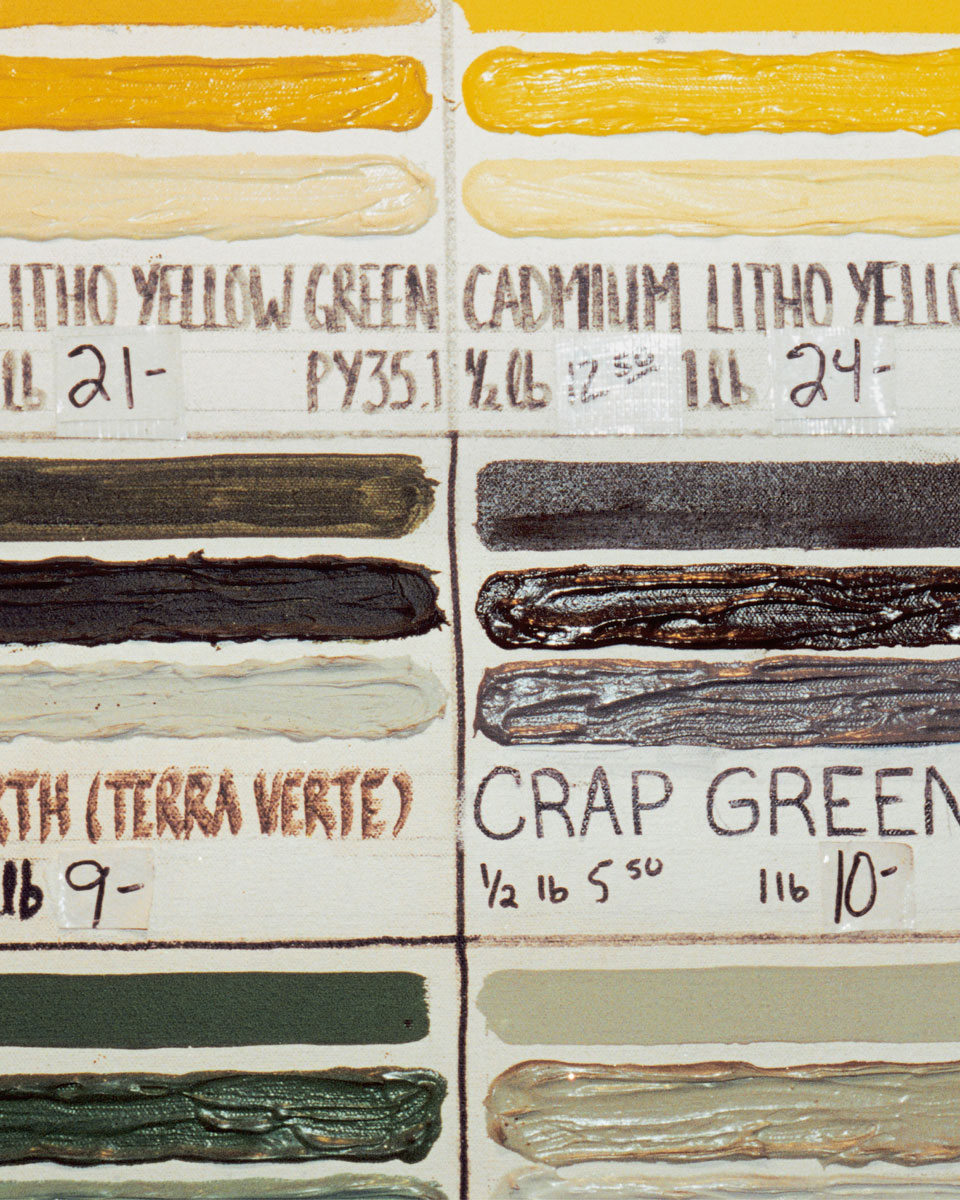 Guerra, a practicing artist, had painted a mural in 1983 at the corner of 3rd Avenue and St. Marks Place in downtown Manhattan. Titled Gringo, it presents a simply rendered face in three-quarter profile, cigarette sticking out of the mouth and upside-down cross dangling from the earlobe, with the word GRINGO spelled out in large, emphatic lettering. The mural covers the entire side of an apartment building, rising up roughly from the second floor to the top of the fifth. Although it can still be seen, much of its original luster has been lost to the ravages of time and weather. Guerra realized quickly that the paint he had used, a type of cadmium, was inadequate for an outdoor artwork.
In searching for a remedy, he had trouble finding what he needed in the local artists' supply shops. Being a self-sufficient person and not especially shy, he began pestering paint-manufacturing companies to learn their secrets. He had already had a bit of luck in the late 70s, when he found a complete 16-volume edition of the Thomas Register lying in the street. This massive directory of industrial product and service companies in the United States and Canada gave him a start in his career as an autodidact by providing access to names and phone numbers of experts in the field of pigment production. Assembling pieces of information from chemists employed by these large concerns, he gradually turned into a minor expert on "paint-making systems," a self-described "connoisseur of pigments."
What annoyed Guerra and others like him in the early 80s was the perception that the paint companies tended to keep their clients partly in the dark. Labels on the backs of containers gave vague, and sometimes misleading, information about their products. It was not always clear, for instance, what particular pigment had been used to create a specific color. The pigment industry makes use of a coding system, whereby a color like Hansa Yellow 10G will be listed merely as PY3 in the ingredients on the side of a paint tube. Since artists do not typically have access to the codebooks, they cannot recognize in advance how intense or weak the hue might be. Guerra felt that in order to gain more control over their materials, artists should know exactly what elements made up the mixture. As he puts it, "artists haven't been taught to worry about these things."
The drive to educate led him to open Guerra Paint and Pigment in 1984, a quintessential example of the kind of do-it-yourself mentality that pervaded the East Village at the time. His shop on East 13th Street has been a beacon for downtown artists looking to gain a little independence in the process of creating color. The front of the store has two walls covered in sample brushstrokes of all the more than 200 pigment dispersions they offer. Each color is given four different variations of thickness and purity, demonstrating some of the varied results an artist can achieve with a little practice. In addition, Guerra and his wife Tarra produce articles (some of which have been published in industry magazines), pigment charts, and how-to manuals that they hand out on request. Before allowing a first-time customer to take home their wares, Guerra and his staff gently insist on providing an on-the-spot demonstration.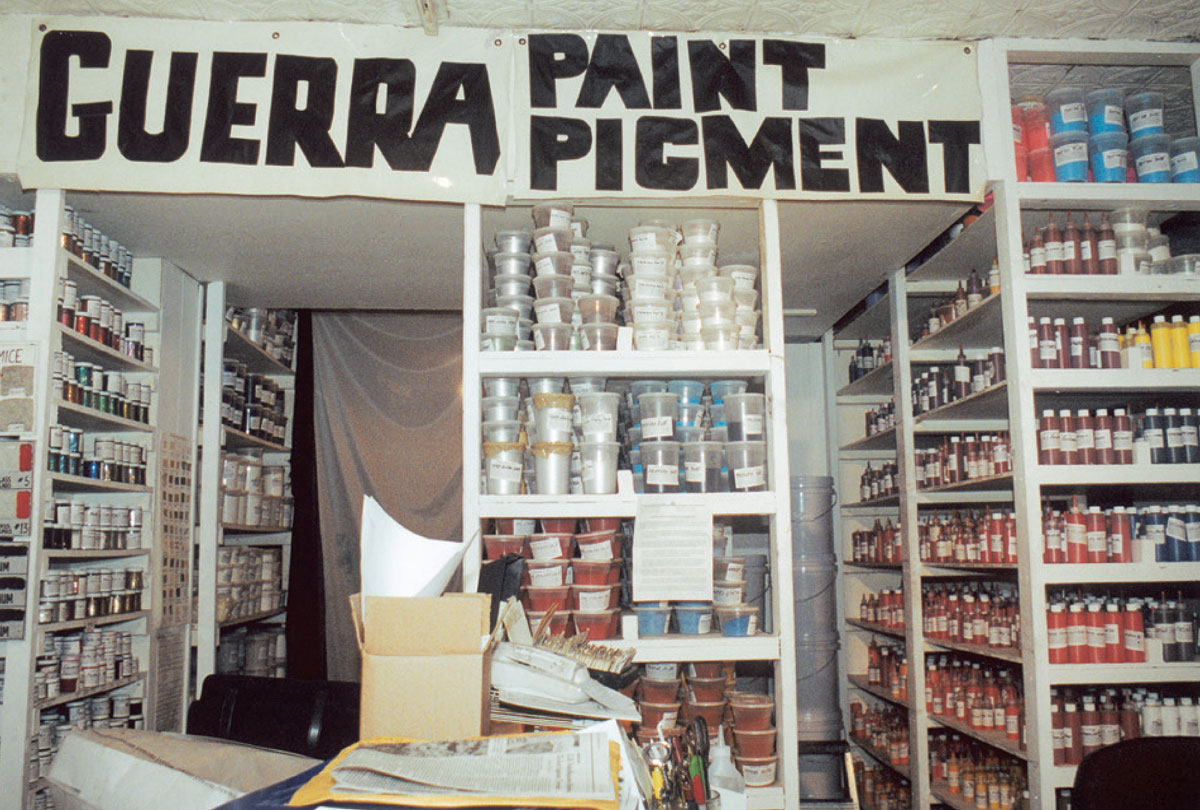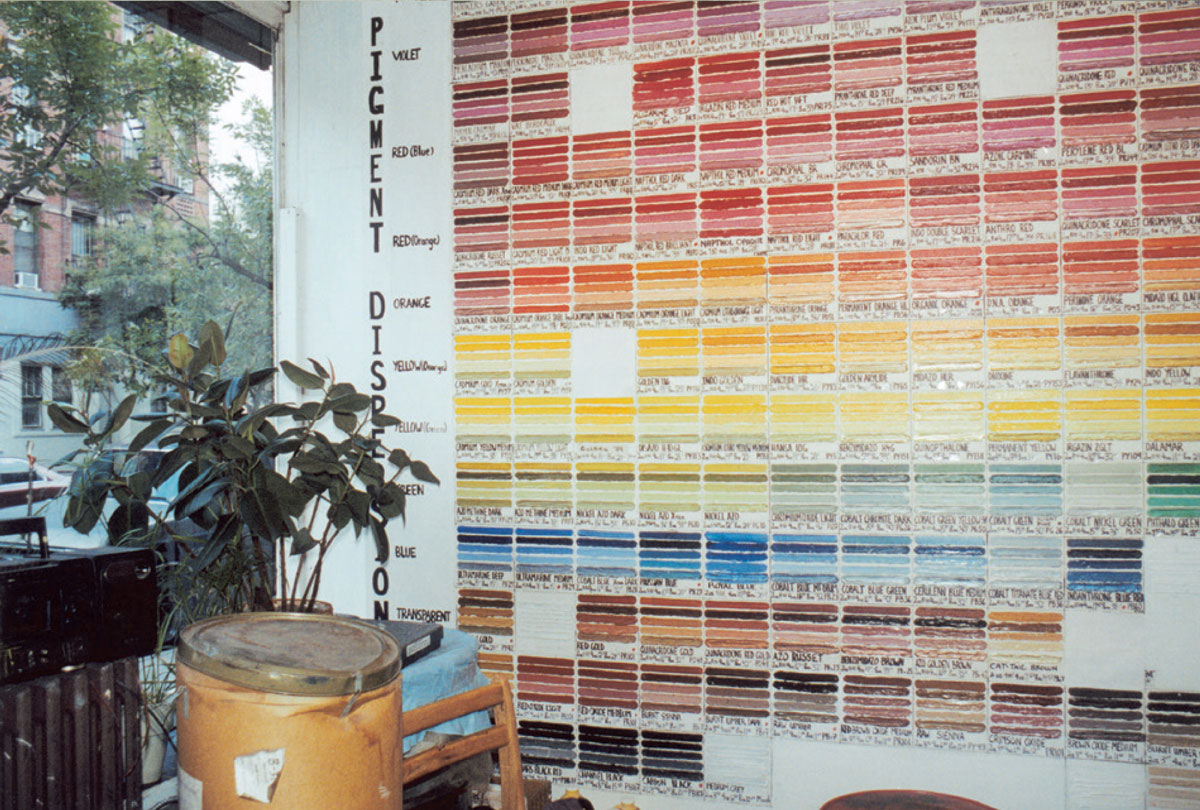 Perhaps the most humble, yet evocative, pigment Guerra sells is the earthy Crap Green. This mélange of a color shares qualities with other by-products that come about somewhat accidentally, not unlike that scary liquid known as slurry, the absolute final stage of a slaughterhouse disassembly line. Crap Green has no such grotesque connotation. The efficient workers at manufacturing companies occasionally remove the particles of their product from air ducts and other passages where stray motes of pigment dust come to rest. Guerra buys up these leftovers and turns them into a fairly modest-looking color. It is a little bit like making a cocktail out of the liquor that collects in bar mats over the course of a busy evening at a pub. For anyone who has ever mixed together all the colors in a child's paint box and come up with a murky brown, the green comes as a nice surprise.
Crap Green is probably not the number-one seller among Guerra's most reliable customers: interior decorators. The practical nature of their occupation more likely leads them in the direction of pigments like Green Earth or Aurora Pink. But Guerra doesn't discriminate based on one's art affiliations; he caters to diverse needs and is continually searching for new solutions to the problems of his clientele. Yet no matter who stops by, he and his staff make it clear that their products are experimental. One cannot always predict how a new pigment will behave once it is unleashed on the canvas or the apartment wall.
Like many privately owned businesses in New York, Guerra occupies a niche position. He found his way into the world of pigments out of a personal need that happened to reflect the concerns of other artists. Nevertheless, the future existence of the shop is not guaranteed. A potent sign of the changes that have taken place in Manhattan in the past couple of decades can be seen directly on Guerra's Gringo. Recently it has been partially covered by a white rectangle upon which is written in block letters: "Space Available, 516-623-4454." No pigment, no matter how durable and resistant, can withstand the supernatural forces of real estate.
Gregory Williams is a critic and art historian living in New York. He is also an editor of Cabinet.
If you've enjoyed the free articles that we offer on our site, please consider subscribing to our nonprofit magazine. You get twelve online issues and unlimited access to all our archives.