Exhibition /
"Harry Smith: String Figures"
Dates: 19 September–3 November 2012
Location: Cabinet, 300 Nevins Street, Brooklyn (map and directions here)
Gallery hours: Wednesday to Saturday, 12–6 pm (NB: closed October 6, 10, and 11)
Opening reception: Wednesday, 19 September, 7–9 pm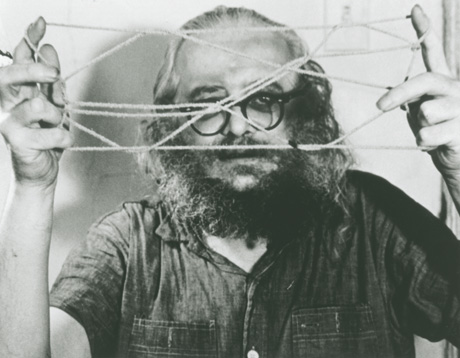 Cabinet is pleased to present "Harry Smith: String Figures," an exhibition drawn from the collection of John Cohen. Organized by painter Terry Winters, the show features twenty-two string figures created by Smith (1923–1991), the legendary artist, filmmaker, and ethnomusicologist.
Though perhaps best known to the general public for his groundbreaking research into early twentieth-century American folk music—and the seminal six-album compilation he produced for the Smithsonian Institution in 1952—Smith was also active as an artist and filmmaker in both San Francisco and New York, where he lived from the early 1950s until his death.
A widely curious polymath, Smith was an avid collector of artifacts ranging from Seminole textiles to Ukrainian Easter eggs; he also amassed the world's largest known collection of paper airplanes, which he later donated to the Smithsonian Institution's National Air and Space Museum. He also was an avid student of string figures. First described in Western anthropological literature by Franz Boas in 1888, these patterns—made by looping or weaving lengths of string into geometric forms or shapes that often evoke familiar objects—have been produced throughout history, both as a secular pastime and as a spiritual practice. When he died, Smith left an unfinished thousand-page manuscript on string figures, along with an extensive collection of figures that he had created.
Cabinet's exhibition brings together a selection of these artifacts, along with a facsimile of portions of Smith's unpublished manuscript and an accompanying video program.
Also on view will be a limited edition print by Terry Winters published on the occasion of the exhibition. Proceeds from sales of the edition will support Cabinet's activities.
Thanks to John Cohen, Raymond Foye, and to Rani Singh at the Harry Smith Archives at the Getty Research Institute Special Collections. Additional thanks to Grenfell Press for assistance with the limited edition.
Download the "Harry Smith: String Figures" exhibition brochure as either a regular PDF, or as a PDF that can be printed double-sided and then folded into a nifty brochure.
---
Related Programs
Thursday, 11 October 2012, 7 pm: "Patchworks and String Bands": A program of film and live music by John Cohen and the Downhill Strugglers.
Thursday, 25 October 2012, 7 pm: "Knots and Unknots": A presentation by mathematician Philip Ording on string figures and pictorial topology, followed by discussion between Ording and Terry Winters.
About the Participants
John Cohen is a photographer, filmmaker, and draftsman, as well as a musician and founding member of the New Lost City Ramblers. He is also known for his early research on and collection of Andean textiles.
Philip Ording is assistant professor of mathematics at CUNY's Medgar Evers College. He received his PhD in 2006 from Columbia University. This summer, he and Helena Kauppila co-curated "Model Theories," an exhibition at Ford Project, New York, exploring the capacity of artworks to function as models.
Terry Winters is a painter based in New York. His most recent exhibition, "Cricket Music, Tessellation Figures & Notebook," was held this year at the Matthew Marks Gallery in New York.